Trailroc 245 Running Shoes - Inov-8
Back in April I went to a free natural running clinic and then as a result got some Trailroc 245's to review.
At the start of the year I started running much more consistently. I've always dabbled, to the extent I even did a half marathon and an off-road half ironman distance triathlon a few years back, but a knee niggle exacerbated by the bike and a suggestion from a friend that a mountain marathon in the Pyrenees would be a 'good idea' led me to pick up my running this year.
Running for me is almost entirely off-road as I live on the edge of the Peak District and love being in the hills, so fell and trail shoes are what I go for. Perhaps oddly, as many of my friends wear them, I have never tried Inov-8's before now. So, have I been converted?!
I was intrigued by the free half day natural running clinic being hosted by Inov-8 and Charlie Sproson at Outside in Hathersage as I've never thought about my running style before but had recently wondered about the natural / barefoot style espoused by various companies not least Inov-8.
It was a really interesting session and well worth considering if you are at all curious about running style, efficiency or suffer niggling injuries. Charlie and Andy (Inov-8) gave a nice overview of the thinking behind natural running (including minimalist shoes) and went through some drills before taking us out for a run. Clearly you can't change your running style in half a day but it did give me plenty to take away and think about and 'try at home'.
If you are going to run in something like the Trailroc 245's then you do need to consider running form as heavy heal striking is not what these shoes are designed to do. I'm by no means there yet but I am now running further with a forefoot/midfoot strike rather than heal strike. With this in mind I have not been running my longest runs in these as I get my calves and achilles more used to a natural style.
So, how are the shoes?
First impressions are that they are light and flexible with a not overly aggressive looking tread pattern. They are light, (obviously from the name – 245 g per shoe for a size 8) in my size UK 11.5 they weigh 308 g each.
Looks can be deceptive and the sole has been surprisingly grippy in even very sloppy Peak District mud and on wet grassy banks. The rubber is a triple compound that is meant to be grippy and hardwearing. There is no noticeable wear yet after 54+ km and grip has been decent on mixed rock types from Peak grit to Snowdonian volcanic varieties. Not rock boot grippy but good.
They offer a nice balance between feel and cushioning, although for a bit more protection for longer distances and rockier terrain I think the Trailroc 255 would suit me better. The 245 have a 6 mm midsole and 3 mm extra at the heal whereas the 255 have a 6 mm differential. On a lovely sunny dry Snowdon Horseshoe outing, 15 km and rocky, I felt at the end that I wouldn't have wanted to go much further on that sort of terrain without a bit more protection. That could have been in part due to my getting used to a lower profile shoe as well.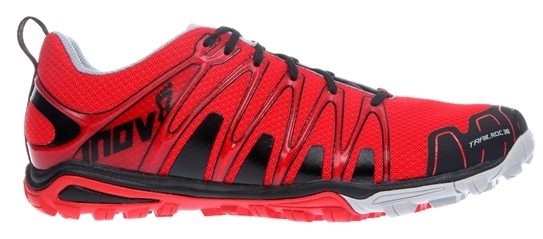 The other main thing that Snowdon run highlighted was the trail rather than fell credentials of the shoes. I found that the slightly broader forefoot, which is there to promote the natural spread of the toes, allowed the shoe to roll around the foot on irregular rocky terrain, giving a bit of an insecure feeling. I found the same effect on off-camber slopes on other runs too. To be fair, they are marketed as a trail shoes not fell shoes and specifically highlight the broader toe box as a feature but are nonetheless better suited to less rough terrain. There are plenty of Inov-8 shoes in their range with the Performance last which is narrower at the toe for rougher terrain. I have narrower feet than most though so this may be more pronounced on me than others. The foothold when descending steep slopes straight down is excellent and the heel fit and hold for me were very good.
A final point is the lightweight nature of the uppers which do a good job of not feeling heavy and draining easily when you've saturated them with a stream crossing or big puddle!
Overall, these are a nice looking light shoe that is ideal for anyone wanting a low differential shoe for running on tracks and trails but for me they don't have quite the foot security to make them brilliant all-rounders even though the outsole gives them that potential. I'll certainly consider other Inov-8's in the future too!
A final note: on the first pair I had, I took them for a mixed 12 km wet moorland and trail run as their first outing. When I got home I noticed that the toe rand was delaminating. I advised Inov-8 of this and they were very swift to organise an exchange and were keen to know about the issue. It can only have been a batch problem as the second pair have stood up very well to much worse than that first run.

What Inov-8 say:
Offering a blend of performance, cushioning and underfoot protection this shoe is suitable for racing and training. Three sticky rubber compounds varying in hardness give optimal wear and maximum grip on dry and loose trails.
One Arrow: (3 mm differential) Perfect for anyone wanting to experience minimalist running and barefoot like training sessions. Only experts should use for extended periods.
Natural fit: Based on the shape of the foot, this is our most natural fit. More room in the toe box allows the toes to spread.
Tri-C: Three different rubber compounds guarantee excellent grip and optimum wear rate.
Reviewed by Steve Hidges.