Scarpa Rebel Carbon GTX Mountaineering Boots
Scarpa Rebel Carbon GTX Review
by Steve Hodges
I had an end of winter trip coming up and needed some new boots. An arthritic toe and long walk-ins had made the thought of my rather dated and slightly undersized plastics a rather horrible thought.
Having tried on quite a few options, the Scarpa Rebel's were by far and away the best fit for my feet which, as we all know, is pretty key to happy feet and good days out. I have narrow low volume feet and a close second on fit were The North Face Verto S6K Glacier GTX, with a very good heel fit although a broader forefoot. The Rebel's had a similarly secure heel and an all-round snugger fit for me. They seem to be a generally lower volume boot than most other mountain boots.
It didn't hurt that they were also some of the lightest semi clip-on crampon (C2) compatible boots around, "potentially the lightest B2 boot" according to Scarpa. I'm always happy to reduce the weight of my kit if I can. Whilst on the subject of crampons; I found a pair of Petzl Sarken's to be a good solid secure fit. In terms of sole stiffness they are rated as a B2 but I have seen them labelled in a shop as a B2/3, which is, I think, a fair assessment. They don't have a toe welt for full clip-on crampons and do have some flex when front pointing (I have size UK11 feet so plenty of leverage), but noticeably less flex than other B2 lightweight boots I have tried on in the past. I guess that'll be the carbon fibre coming in to play – enabling the low weight yet higher stiffness. The measured weight, by the way, is 1600 g for this pair of size UK11's.
A testament to their lightweight and immediate out the box comfort is the fact that, whilst others in the group were wearing trainers and carrying their boots on the initial slog up from the North Face car park toward Ben Nevis, there was no question in my mind that I needed to do that. Again, on the return having trudged across the tussocky traverse from the tourist track I didn't feel jealous of those now able to don their comfy trainers for the descent through the forest. Yes, my feet were tired and I was happy to get them out of the boots at the end of a long day, but the boots do walk well, very well.
The uppers are pretty flexible, aiding the walking comfort no doubt, with no specific insulation but they seem tough enough so far and I didn't notice cold feet or toes. To be fair, I haven't spend a lot of time stood belaying as we chose routes that we could move quicker on due to the incredibly high winds we experienced throughout our trip. It was however a pretty cold wind!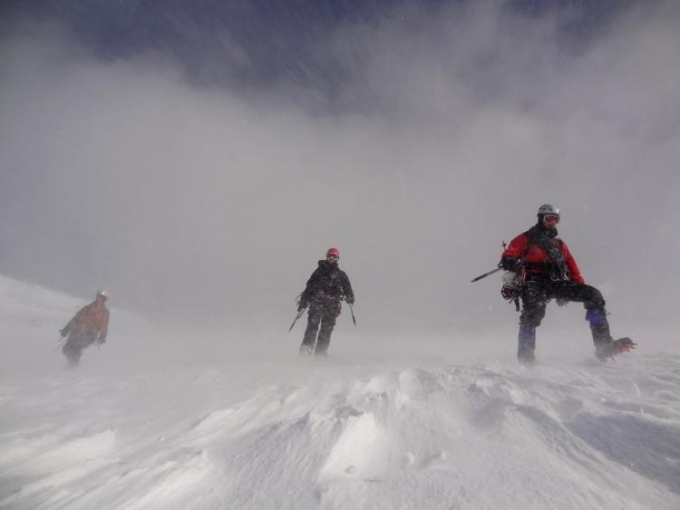 From a climbing perspective the Rebel's were decent. Certainly they felt very nimble and accurate, but if anything they could be a bit too light when it comes to front pointing in harder water ice. There is less weight to the swing I suppose requiring more effort to penetrate. Also, as mentioned, they are not (B3) fully rigid and so wouldn't be expected to be as good for sustained front pointing, but they are capable within reason and certainly better than other B2 boots I've used.
[A minor aside – and not aimed at the Rebel specifically – I do wish boot manufacturers could better match the stiffness/flexibility to the length of the boot. It seems a common situation that a size 6 B2 will be practically rigid whereas the same model in a size 11 will flex enormously. Combine in the likely additional weight of a person with a size 11 foot on to the extra leverage and they really are quite different boots…]
All in, the Rebel's are a very capable boot for summer alpine or Scottish winter mountaineering but may disappoint for more technical routes where more time will be spent on the front points. At a RRP of £350, the price seems maybe a bit high and a bit more costly than other B2 boots but then they are lighter than most and certainly stiffer. Like most boot purchases though – if they fit they are worth it!
I note that Scarpa have produced a Rebel Ultra which has a built in gaiter, insulation and a front toe welt to take full clip-on crampons and a Rebel Pro has just been announced that will have a front toe welt and insulation, so may just be the answer for more sustained climbing in colder conditions or for those that suffer cold feet. These may not be available in the UK though, release information is all US-centric. Regardless, for all-round mountain versatility the 'standard' Rebel Carbon GTX are hard to beat.

Scarpa words from their website:
POTENTIALLY THE LIGHTEST B2 BOOT AVAILABLE, IN THE WORLD!!
The proposed initial goal was to develop a set of elements that play as well as the technical requirements and had a very low weight. The result is a weight reduction of about 25% compared to the traditional components used today. Starting from the main goal and the objectives of the project Scarpa® has developed a new concept for this midsole using different types of materials assembled together to obtain a project with a technically advanced and highly functional design, creating a perfect balance of design, weights, volumes and function.
And from their blog post:
SCARPA AND UELI STECK COLLABORATE TO CREATE REBEL GTX CARBON
Aug. 3rd 2011
By SCARPA
What do you get when you combine the efforts of world-renowned climber Ueli Steck and SCARPA, the most innovative manufacturer of mountain footwear in the world? The perfect boot for rock, snow, ice, or approach: the Rebel GTX Carbon. Debuting at Outdoor Retailer this week, the Rebel weighs in at a mere 1lb, 7oz per boot.
Don't conclude that any performance was sacrificed for weight savings, though. It's made with the strongest, lightest materials available, including a carbon-fiber insole (hence, the name). The Rebel has a climbing shoe-like fit due to a low-profile Gore-Tex stretch tongue and a low-volume alpine last.