Inov-8 X-Talon 200 Running Shoes
Just like 5.10 are my favourite rock climbing shoes because they have the stickiest rubber, Inov-8 are my go-to running shoes for the same reason. Perhaps it says something about my climbing and running style, that I am often on the edge, where that extra bit of grip is the difference between a slip with potentially disastrous consequences. It certainly concentrates the mind to be plummeting off a rocky summit or along a knife edge ridge in Snowdonia or the Lakes, and it's reassuring to know that when I'm going "all out" I don't have to worry about my feet slipping.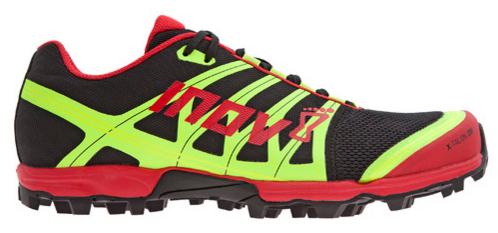 The X-Talon continue this theme, with a super sticky sole, and some giant rubber teeth to penetrate deep into the seasonal mud of the Peak District. In actual fact I tend to only use my Inov-8s to race in, and even then only for the short races. The rubber is softer than other brands and wears our more quickly so I save them for when they are needed. In longer races I am running more slowly and comfort is more of an issue, so the super-low rise of the X-Talons, and lightweight uppers make them less comfortable. That said one of the features of the X-Tallon 200's is the extra width of the toe-box, something I am very happy about, and which do make this particular model more comfortable, and thus more likely to be worn on longer runs.
A month back I ran my first ever obstacle race. It was an 8km course with a very varied set of terrain including river crossing, wet, rocky gulley descents, muddy fields, dry tracks, and of course, the obstacles themselves: tyres, wooden walls, a pool, hay bales etc. Standing on the start line being gee'd up by the organisers to do push ups and star jumps the whole experience felt very alien to the usual fell race. However as the gun went it felt no different; the scramble for the front as we approached the first bottle-neck, the burning lungs, and instant lactic acid build up in the thighs as we hit a steep climb. The X-Talons performed admirably well. I slipped once, descending a steep rocky gully with legs I could barely stand on, but aside from that they were amazing. Wooden walls were overcome with ease, the tyre maze was a doddle, and the swim across the pool / lake was no bother. As I exited the water the shoes drained quickly through the mesh upper. On one occasion I gave one of my ankles a half twist (a common occurrence as anybody who runs with me will attest to), but the low drop in the sole meant a quick correction and I was back up again before the full twist had had a chance to happen.
I actually got these shoes to take part in a swim-run event, but that didn't happen in the end for various reasons. However I did use them in training for the event, swimming anything up to a mile in them (open water), and have to say that I was surprised at how well they performed. I felt that the drag induced by wearing them was pretty much offset by the extra effort I was able to put through my kicking thanks to increasing the surface area. Not quite the same as wearing fins, but not so very different. On exiting the water I then switched straight into running mode, with no need to tinker with my footwear.
All in all another superb pair of shoes from Inov-8. If I had one issue it would be the sizing. The 9.5 (my usual size) was too small to even get on, the 10 fitted just right. They retail at £100.
More info on the Inov-8 website