Berghaus Hypershell Waterproof Jacket
Weighing in at 100g this is now one of my lightest bits of kit. It's waterproof, though I wouldn't choose to wear it for full day out in the hills, and windproof, and very, very packable. It has a full length zip meaning easy access and venting whilst running. On the flip side it has no pockets, being stored in a very small stuff sack with an elasticated closure. One slight issue is the fact that there is nowhere to store the sack once the jacket is out of it. Very low on reflective materials meaning that in the dark blue it's not an ideal choice for road running, but then it's really designed for the hills. I've worn it for running and cycling. it works fine for the former, with a neat little hood which can be clipped out of the way when not in use, but was pretty flappy when cycling at any speed. It retails at £120 which works out pretty expensive gramme for pound, but if lightweight kit is what you are after then this is the business. with my Inov-8 Race elite waterproof trousers I can now head out with fully tapes waterproofs weighing just 275g!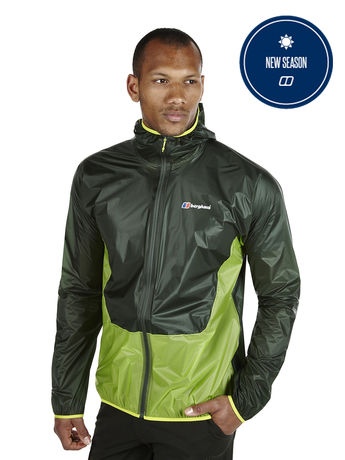 More information on the Berghaus website.