Inov-8 Race Elite Racepant
If you've ever done a fell race that requires full waterproofs then you'll know that those waterproofs need to be fully taped along the seams. I have a few pairs of very lightweight waterproof trousers, but they aren't taped, so when faced with such a race I've invariably had to carry heavy waterproof trousers which is a pain because I'm carrying more weight, and also frustrating as they tend not to be designed for running in. So it was time to get the proper tool for the job.

The Inov-8 Race Elite Racepant are just such a tool. They weigh in at a measly 175g but do the job commendably. The fabric, though waterproof and windproof is also stretchy meaning that they fit quite snugly and don't flap around in the wind, which is usually blowing when the weather is bad enough to merit wearing them. Wearing stretchy waterproof trousers on bare legs takes a little getting used to, but more often than not I am already in running tights. The lower zips come up high enough to allow you to put them on and take them off without taking off your running shoes, a very important consideration as cold / gloved hands also come with the territory. The stretchy material means than running in them is comfortable, without the twisting that can occur with standard waterproof trousers as the layers stick to each other. The don't come with a stuff sac, but pack away into their own internal pocket. Note that this pocket is not really suitable for carrying anything as it's simply an open, elasticated affair, with an elastic loop to hold the whole lot together in a nice package when packed away.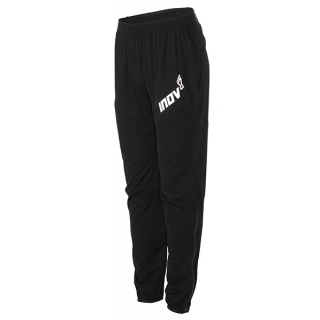 They retail at £90, but are available for less if you shop around. Not a bad price at all for a very functional piece of kit, essential if you take your running seriously.

More information on the Inov-8 website.