The North Face Patrol Glove
So The North Face have come up with a 'new way' of sizing gloves according to this video. Sounds reasonable and sensible to make sure that sizes are consistent across their range, but I have a major issue. My hands are by no means massive, but my last two pairs of TNF gloves have been in a large, yet have been significantly too small for me. If you are ordering online I would urge you to test some out in a shop in advance to make sure that you get the size correct. If the video is correct this should mean that you can buy online and know that whatever model you are getting will fit.
Sizing issues aside I think these are a nice pair of gloves. Warm and waterproof, I like the radiometric articulation which basically means that there is a natural curve in the glove which matches the curve in your relaxed hand. This isn't something that I had always thought needed addressing in previous gloves, but now that they have given a name to it, it does make sense. I appreciated the little touches – the small loop at the end of each index finger to allow them to be hung out to dry with the wrist facing down, and the wrist cords which means you can take them off on a route without fear of dropping them. Talking of index fingers the 'pinched fingertip construction' seems to perform well, allowing me to do fairly complicated things with ease – putting on crampons for example. On a recent winter trip to Scotland they performed perfectly well in the rain on the approach, and in the snow on the route. They required a bit of a drying out on a radiator overnight, but we are talking Scottish winter here and I don't think that anybody has invented a material to cope with that complex and harsh series of conditions!
They retail at £90. Seems a lot, but for the sake of warm hands in a dangerous environment I'd say worth every penny as long as they fit nicely.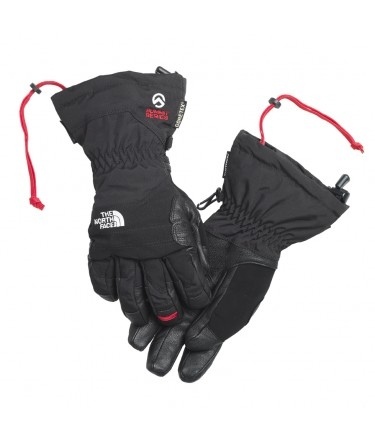 Here's the blurb from their website.
The Patrol Gloves offer maximum dexterity, waterproofness and breathability for technical mountain pursuits and snow sports. The insulated palms are fitted with water resistant leather to build longevity against wear and superior grip in to the gloves. Sandwiched between the breathable and waterproof HyVent® outer shell and Gore-Tex® inner liner is warm Primaloft® insulation. Storm Door construction integrates a gasket system into the cuff, locking out the weather and moisture and providing a more secure overlap with jacket sleeves. Warm, comfortable and hard wearing, the Patrol Gloves will accompany you on mountain adventures for years to come. Only products that are rigorously tested in the most ferocious conditions make the Summit Series™ grade, like the Patrol Gloves.
Feature
Warm, comfortable, and bomber; a ski patrol favorite. 5 Dimensional Fit
Waterproof and breathable Gore-Tex® insert
Radiametric articulation
Storm Door cuff gasket
Pinched fingertip construction enhances dexterity