Alpkit Elan Bivvy Bag / Tent
I've had a bivvy bag of some description since I was a teenager. My first trips were with orange survival bags which invariably ended up full of holes as they doubled as awesome sledges! I was lucky enough to have an early hooped GTX bag made by Phoenix and have had a few more hooped variants over the years. I really love the simplicity of sleeping in a bivvy bag. Small spaces don't freak me out so I'm perfectly at home zipping it up and hunkering down.
Essentially the Elan is a kind of hybrid between a tent and a bivvy bag with a few features that I really like. It's a single skin of 700D ripstop nylon on both the upper and the groundsheet. So importantly it's not breathable. It gets around this by being well vented thanks to the two-pole hooped construction at the head end. Where traditional bivvy bags have a single hoop at the head end, which needs pegging out, the Elan has a cross pole arrangement which looks like a miniature tent out of which projects a more traditional bivvy bag body. The identical poles are easy to fit through sleeves, with the ends in reinforced eyelets. Once in the thing stands up without the need for any pegs. Once you are in it there's no chance of it blowing away so you can go pegless if you like. However there are peg loops at both ends should you feel the need.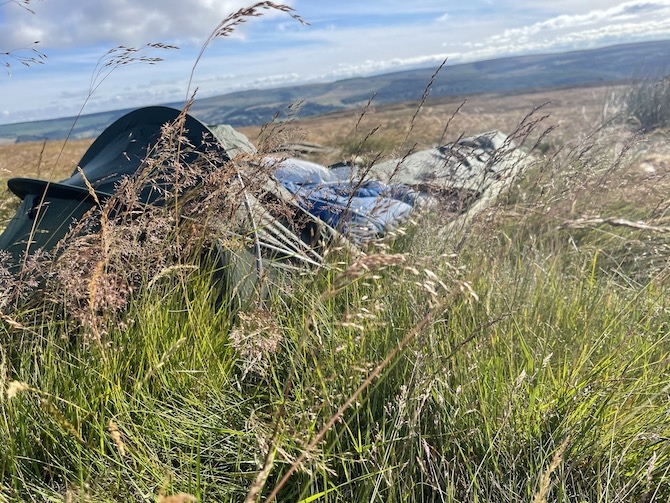 Probably the biggest frustration with traditional bivvy bags is the narrow entry point at the head end. It can be difficult to get in and out this way, especially if the weather is bad and you're storing additional kit. The Elan has a three-quarter length side zip which solves this problem altogether. The zip is protected from the elements by a decent baffle.It's 2.25cm long, so there's plenty of room at either end to store your kit if you need it inside with you. Because the head section is so tent-like there are a couple of mesh pockets for bits and pieces. There's a midge-proof bug guard and a rain cover, both of which zip open / closed.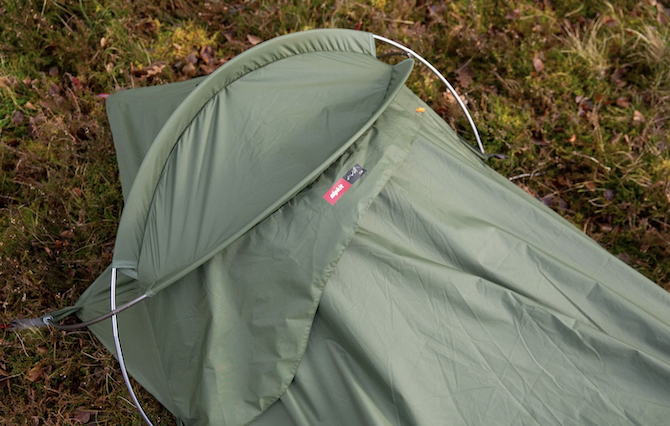 Weighing 900g (without pegs) it's remarkably comparable with other single hoop bivvy bags, significantly lighter than your average tent, and makes for a good choice when fast packing, bike packing, or whenever you're travelling light. The only downside really is a little condensation if you zip up too tightly, but we genuinely haven't found it to be much of an issue.Probably its biggest selling point is the price.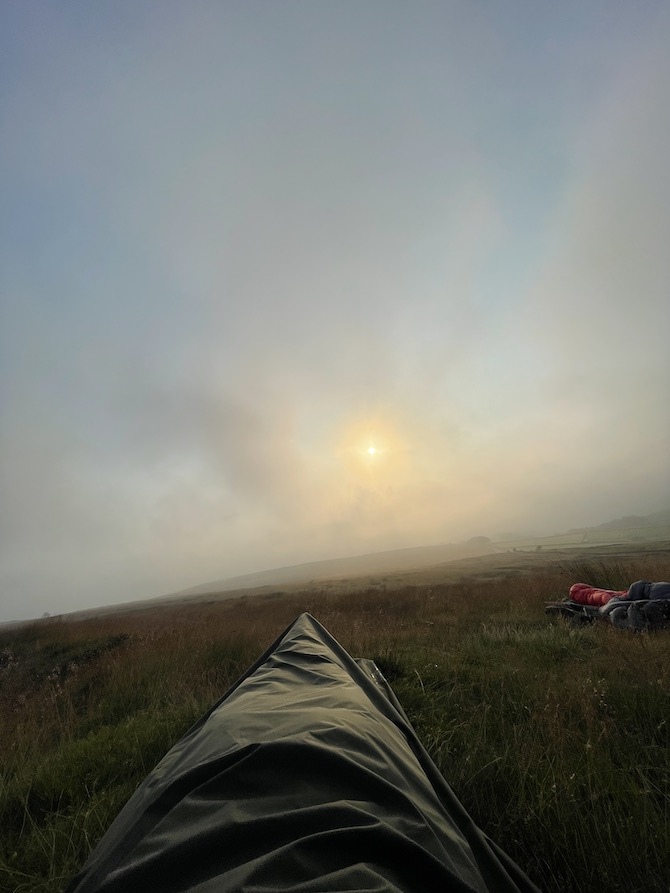 Retailing at £120 it's about a third of the price of the top of the range bivvy bags, but with some cool features. Check it out on the Alpkit website.