I'd been on the lookout for a remote canister stove for a while as I was keen on the stability offered versus the likes of the MSR Pocket Rocket which sits on top of the gas canister. Plus I was hoping the broader burner would offer better simmer control and assist in less burned onions! Don't get me wrong, the Pocket Rocket is a great compact and light stove but has its limitations.
The Windpro 2 has the added extra of being designed to run with the canister inverted to give better operation in the cold and allow full use of the canister contents.
The Windpro 2 is a simple, fairly classic design with three leg cum pot stands that swivel around the burner to enable more compact storage plus a braided hose with the control valve on the end. Other notable features are a pre–heater and a swivel connector between the valve and hose and of course, the stand that clips to the control valve to support upturned canisters. It's never going to be as light or compact as a Pocket Rocket style burner but is quite acceptable (204 g including the canister support). There are quite a few extras included in the box:
• An aluminium foil base reflector (17 g)
• A classic MSR aluminium foil wind shield (58 g)
• A multi-tool/spanner (8 g)
• Several Instruction Manual leaflets in multiple languages (sensibly each being separate so if you choose to carry it you don't have to carry multiple extra pages you can't read) (11 g for the English one!)
• A simple unpadded drawstring storage bag for it all. (20 g)
A nice complete package totalling 319 g, a fair bit more than the 187 g stated on the box – but that's marketing for you!
In action the stove has been flawless. Quick enough to the boil and excellent simmering for a powerful gas stove. The burner diameter is obviously big enough and the control valve is sensitive enough. Much of the use for the stove this summer was car camping and so we had some bigger pans with us. The thicker bases on these no doubt help with the simmer/frying control but it's worth noting that the stove was very stable with these bigger pans too.
It just hasn't been that cold since we've had the stove for review so we haven't 'needed' the canister inversion feature. However, I tried it and it works. I didn't try to thoroughly assess how well heat control works in this mode of operation, but MSR suggest for simmering you have it the 'normal' way up so it's not to be expected to be as good. I got the feeling you needed to be more patient with the adjustments, much as with a petrol stove – which would make sense given a similar liquid feed concept.
I was going to try and do a little demo video, but there isn't much to show that pictures don't – it just works! Plus, there is are a couple of little clips already online that give a nice overview of the stove features and explain the logic behind inverted operation.
http://www.youtube.com/watch?v=ygMw8jjP5Rg
http://www.youtube.com/watch?v=NOmDTKayg0c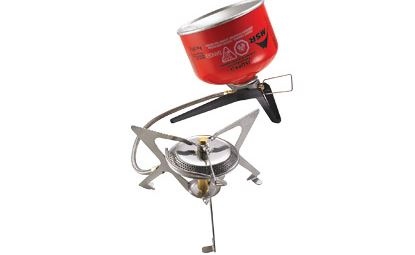 The inverted feed mode would suggest higher fuel useage given the claims of faster boiling etc. I've not been able to assess how significant this is. Probably best to reserve inverted operation for when you are in truly cold conditions, have a practically empty canister or just can't wait a second longer for that cuppa!
To summarise, a very nice practical gas stove that is ideal for any situation except when you want to go ultra-light.
What the manufacturers say:
The next-generation WindPro II camp stove combines all of the great benefits of the original WindPro stove, with the ability to burn in liquid-feed mode. This added versatility lets you run the stove in traditional upright mode for optimal efficiency and flame control or, with a simple twist, invert the canister on the included stand to deliver liquid gas directly to the burner. This configuration diminishes reliance on internal canister pressure, greatly improving cold-weather and low-fuel performance, and boots stove output significantly anytime speed really counts.
• Inverted Liquid-Feed: Increased cold-weather and low-fuel performance with more consistent output across all fuel levels.
• Efficient: Remote burner allows the use of a windscreen for maximum efficiency.
• Lightweight & Compact: Weighs just 6.6 oz.; fits in a one-liter pot.
• Versatile: Supports pots up to 10" in diameter; compatible with bake ovens.
• Includes: Windscreen, heat reflector, canister stand, instructions, and stuff sack.
Minimum Weight 6.6 oz / 187 g
Packed Weight 11.5 oz / 327 g
Boil time (MSR IsoPro), 1 liter 3.6 minutes
Burn time (MSR IsoPro) per 227-g / 8-oz. canister Appx. 70 minutes
Water boiled (MSR IsoPro) per 227-g canister 15 liters
Water boiled (MSR IsoPro) per 1 oz. of fuel 1.8 liters
Country of Origin Made in Seattle, USA
Reviewed by Steve Hodges