Sea To Summit UltraLight Mattress
Sleeping mattresses seem to be getting smaller and smaller. This one from Sea To Summit is a teeny 7.5cm by 17cm when rolled up and weighs in at just 395g. That's seriously small and lightweight and a perfect bit of kit for backpacking, adventure racing, or any other light weight adventuring.

The UltraLight is a different construction to any other mat I have ever had or slept on. Rather than long foam cells that run either across or along the mat, it is a grid of small interconnected pillows. Whereas cells running the length or width each have their pros and cons, the grid seems to be the best of both worlds, giving comfort whatever position you are in, and stopping you from sliding in any direction on uneven ground. The main downside to them seems to be that the thing has a tendency, when inflated fully, to curl when you not lying on it. This isn't really a problem though, as the weight of a sleeping bag is enough to keep it pretty flat.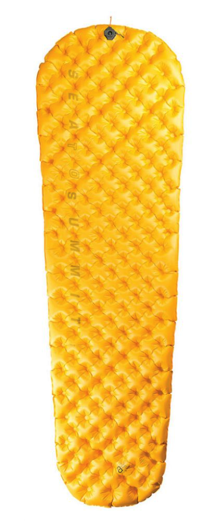 The other notable difference between this mat and mot others that I have used, is the valve. It is a wide-mouthed valve with a one-way flap built in (a spare is also included with the repair kit). Inflating is as usual - blow through the one way valve. But deflating is a doddle, The valve pops out ([t's on a hinge so you won't lose it), to leave a nice wide aperture and the thing deflates almost instantly.


I like the fact that it comes with a repair kit, and more importantly, that the said repair kit is self adhesive rather than the old style ones which need you to spread glue before sticking the patch, and as such, only really have one use. There are six self adhesive patches, which assuming they last long enough, should mean a good few years and a good few punctures.

My mat also came with a self inflating bag. This is a thin bag with taped seams so as not to let air escape, with a roll top closure at one end, and a valve at the other. You simply close the valve, move the bag from side to side a couple of times to fill it with air, roll it closed, push the valve into the valve on the mat, and squash the air from one bag into the other. It takes about 3 full bags to fill the mat. It works nicely, and it a nice innovation. However on a lightweight mattress like this it is almost as quick to blow it up manually. The real benefit to such a system surely lies in inflating big base camo or car boot camping style mattresses with a large volume. That said, the other benefit to using the bag is that it keeps the moisture inside the mat to a minimum.

It retails at £90 which is a tad less expensive than some other brands, but on a par with them. I'd say it represents good value for money if you need to go light.
More info on the Sea To Summit website.


RRP £90
395g
183cm by 55cm
5cm thick
Rolled size 7.5cm by 17cm