Tent: Decathlon 2 Second II Tent
Whether Decathlon were the first people to market the pop-up tent is immaterial really. I am sure I recall early prototypes back in the 80's, but what the mega-sports store has done is make them not just affordable, but so cheap that you almost feel silly leaving the store without one! How they can produce a double skin tent of this spec for under £30 is beyond me.
On a recent trip to Pembroke the forecast was for heavy rain during our journey. Figuring we would arrive in the rain we packed two tents, the pop up and a larger family tent. On arrival at 1am I jumped out into the rain, released the tent, pegged in its guy-lines, opened the zip, threw in some sleeping bags and mattresses, and jumped in with my wife and 6 month old. All in under 2 minutes from having arrived. The following morning, when the rain had eased we put up the family tent and moved into that, leaving the pop-up as a play tent for the nipper who spent the weekend learning to crawl in there! Most notable was that even with two adults and a baby in between us (meaning we were pressed against the tent walls to give him some room), and the heaviest rain of the summer which fell incessantly all night long, we remained bone dry inside. It was even windy, which resulted in much squashing of faces as I'd not fixed all the guy-lines to the tent. Impressive stuff.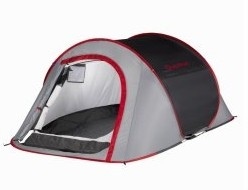 The downsides? Although it was robust enough to keep out the rain on our trip, and has been thoroughly mauled by a troop of kids at a birthday party who literally rolled the thing around the garden with each other inside, the build quality is certainly way below that of the top brands (Mountain Hardwear, Terra Nova etc). That said, it is better than many! It doesn;t have any porches which pretty much rules it out for backpacking in the rain. Then again its shape doesn't lend itself to putting in a rucksack anyway - it is really a car boot camping tent. Getting it back into its 3 foot wide circular bag has a certain knack to it and can result in sever frustration if you don't keep level headed whilst trying to decipher the origami-like instructions. If you buy one of these MAKE SURE YOU ASK THE ASSISTANT IN THE SHOP TO SHOW YOU HOW TO PUT IT AWAY AND PRACTICE! I suspect that at the end of Glastonbury and other festivals there must be a small mountain of these tents left abandoned by teenagers with hangovers who can't be bothered, for the sake of £30 to put a muddy tent back in its bag.
Interestingly Decathlon have just released a family sized version of the pop up tent. It weighs around 15Kg, but that shouldn't matter as it will only be suited to car-boot camping because of the cumbersome shape of it in its folded state. Now that would have been ideal for our Pembroke trip.