It's clearly becoming ever more important to have a power source with us as a back up charger for your phone, camera, watch or any one of dozens of other electronic devices that accompany us in life. Last year we had a family trip to Denmark, cycle touring. We had two mobile phones, a compact camera, a mini travel speaker and a GPS bike computer. Most items we used on a daily basis, but we were wild camping and rarely staying anywhere that we could securely leave our stuff on charge. I purchased a brick of a battery which we recharged twice during a 2 week trip, and from which we were able to top up our devices each night. The down-side to the brick was its weight. It was fine on a cycle-touring trip as we had panniers, but it's not something I would like to take backpackng.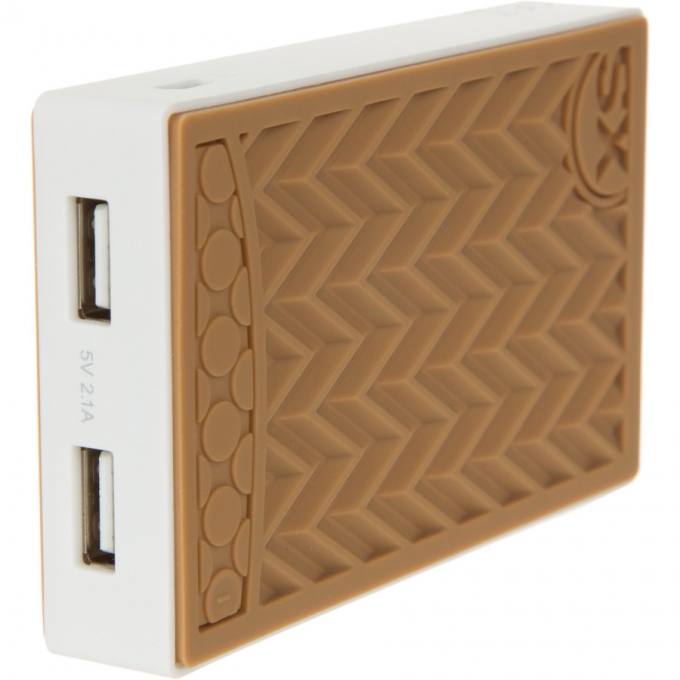 Enter the Xsories Sneaker Bank. I've no idea what the name means, but it is a much more compact version of the above-mentioned brick. It carries 4,200mAh. My iPhone 5s has a capacity of 1,560mAh, so in effect t will charge my phone nearly three times over without needing to be topped up. Not so practical for a pro-longed trip away from a power source, but perfect for overnight trips and emergencies.
The Sneaker Bank is roughly the size of a packet of cigarettes, and encased on its two main faces in a funky rubberized surface which makes it easy to grip and quite distinctive. On one end are two USB slots meaning the ability to charge two devices at the same time. These are rated at 5v / 2.1A. The reality is that I've so far been able to charge all of my devices with it. On one of the other sides is a micro USB slot for charging from the mains or another, larger battery.
Incorporated into the rubber pattern on one face are 6 small circular buttons. The first has a line across it and acts as an on-off button. It actually took me a while to realise that this was a button. Press the button and the other lights light up indicating the level of charge held by the battery (1 light =20%, 5 lights = 100%).
It's incredibly easy to use, robust and compact, lightweight (126g) and practical. It retails at £55.99 which is significantly more expensive than the budget versions, but so far it seems more reliable than my 'brick' so perhaps has a better build quality and longevity. Time will tell. There are also 6,000 and 9,000 mAh versions.