The North Face Superlight Sleeping Bag
This is genuinely the most comfortable bag I have ever had the pleasure of sleeping in. For all its clever features, more on them in a minute, the most noticeable thing about it is how it feels on your bare skin. I remember once somebody telling me that sleeping bags work better if you are naked, without layers of clothes to stop interfere with your body warming up the air between you and the bag. Not sure if this is true or not. Doesn't sound like it, but I always sleep au naturel so the feel of the inside of a bag is important. I've had bags in the past where the individual stitching on the seams between each compartment is scratchy. Others seem to take an age to warm up (you know – that moment when you strip off and get into the bag at night…). Well this bag does none of that. It's like getting into a silky bed!
Weighing in at 1445g this is a seriously light bag considering it's rated down to -31 degrees. Granted, it's not been cold enough in the UK this winter to really test it out to the extremes, but it's performed admirably whenever I have used it and I have no qualms about taking it with me if and when the weather finally cools down to a proper winter! So far it lives up to its product description in that the internal construction (trapezoidal) of the compartments has meant that the down is still nicely distributed meaning no cold spots under the bum, or no superheated feet as it all congregates down there. So far none of the feathers have tried to make their escape from the bag. The design of the bag is such that if it is really cold, and you need to maximise heat retention, it's easy enough. The zips around the head mean you can synch things up really tightly without feeling claustrophobic.
The bag retails at £220. A bargain. An absolute bargain.
More info on the TNF website.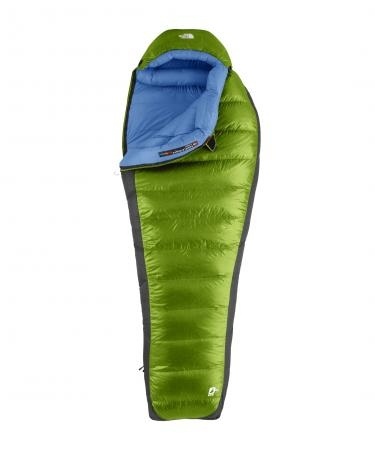 Original Product Spec:
The Superlight is a sleeping bag for all season use stuffed with 650+ Hungarian goose down for mountaineering duty and cold weather backpacking. The trapezoidal baffle construction keeps the down in place thus eliminating cold spots. Boasts body-mapped compression resistant Climashield™ Prism thermal pads for added insulation from the ground where it is most needed. A contoured footbox keeps feet warm and blood circulating whilst eliminating dead airspace. Ergonomic face and neck gaskets keep heat from escaping. The weight savings gained from innovative, thermally efficient construction makes the Superlight a lightweight year 'round 4-season mummy bag. Comes with a trick ultralight compression stuff sack that is shaped like the bottom of a pack. Who thought a sleeping bag could be so clever?
Feature
Zero-degree, technical down bag for mountaineering duty and cold-weather backpacking. Ergonomic face and neck gaskets keep heat in