Tent: The North Face Minibus 23
Weighing in at 3.25Kg this is a seriously light weight 3 season, 3 person tent. We've actually used it for four, though two of these four were aged 3 months and 2 years! Still, there was plenty of room in there for us all.

The first time I put it up I was a little confused by the unique pole and clip system - I always like to try putting up a tent for the first time without any instructions. It took me about 10 minutes. The second time it took about 3. The clips work nicely and make it feel more like building a tent than pitching one. That said I will be surprised if they are still working as well in 10 years time. It's a classic inner then outer system. The inner hangs from the clipped together poles, and the outer then fits over that and is clipped to the inner via 4 small plastic buckles each with its own tensioning strap. All pretty quick, but would still be impossible to keep the inner dry if pitching in wet weather.

Aside from the ease of pitching / building, the incredibly light weight (and packed volume), I like the colour, the doors, pockets and tensioning straps. The two-tone green and grey make it virtually invisible in the UK which is great for wild camping! It's perhaps a sign of the times that tents are less lurid and conspicuous. The doors zip nicely and are easy to roll up and stow with a clever little toggle system that I haven't seen before. There are plenty of pockets & hanging loops inside (though I like to see just a few hanging hooks as well as loops). However two of the pockets left me undecided. They are billed as 'Inside/Outside' pockets and can indeed be accessed from both inside and outside. That's pretty cool. However, they are made of mosquito grade mesh so also act as permanent vents. I opted to sleep with my head next to one of them and had a fairly cool flow of air over my face all night. On a warm summer's night this might be pleasant, but it was just a little chilly for my liking. The plus side to this design was minimal condensation on the tent inner in the morning. Definitely a 3-season feature though. My only other grip is the porch size. The floor space of the main tent body is such that the porches are only really suitable for gear storage. Not a bad compromise given its light weight though. Oh, I was also disappointed in the number of pegs supplied. There are only enough for the main anchor points, with no extras for the supplied (though short) guy ropes. That said, the pegs are also very light weight.

All in all I'm very happy with this tent, but don't expect it to last my lifetime!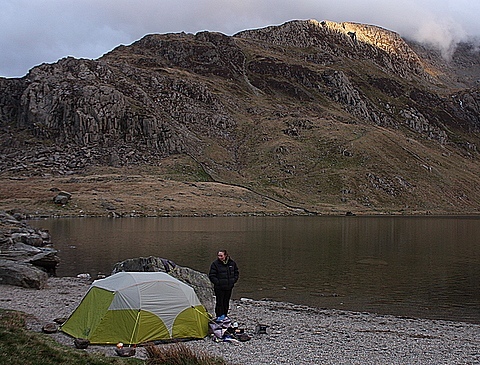 Here's the official TNF blurb:
There's room for three in this remarkably lightweight new tent from The North Face that utilises a unique pole construction to create ample volume with roomy vestibules, while keeping the weight low enough for fast-and-light backpacking trips.
The revolutionary interior volume is riddled with thoughtful livability features, like inside/outside pockets, overhead storage pockets, and a high-low venting system.
* Three-season camping and backing tent from The North Face
* DAC Featherlight™ NSL poles
* Ultralight Twist-Clip canopy pitch system
* Ingenious Jake's Foot fabric tensioner at tent floor corners
* Easy-to-use Ball Cap clips on brow pole ends
* Comprehensive colour-coded pitch system includes poles, canopy, and fly
* Two large vestibules matched with two large D doors
* Exclusive Inside/Outside pockets
* Fully taped bathtub floor
* High-low venting system harnesses convection and crossflow
* Convenient overhead pockets stow headlamps and fragile items
* Abundant gear loops

Retails at £380
Reviewed by Matt Heason on behalf of planetFear