Salewa Fusion Hybrid -8 Sleeping Bag
I was after a sleeping bag for comfortable nights in the UK that packs down small, doesn't weigh much, and is warm. The Fusion Hybrid concept is basically a 50 / 50 mix of down and synthetic and has a number of neat features.

First off it has a small zipped pocket inside up by the head end which is big enough for a mobile phone if you need to keep it on you.

The main zip opens up as usual, but stops just short of the point where you would normally expect it to curve around the foot end of the bag. Here a second, shorter, zip starts which means you can open up the foot end independently of the main zip if you like. This means you can do a few unusual things. If you need to sleep with your shoes / boots on, but don't want to put them in your bag, then you can do so, with them poking out the bottom. If you want to walk about camp (booted or bare foot) without getting out of your bag, then you can do so, or if your feet are simply too hot in the morning when the sun hits the tent then you can let them breathe without getting out of your bag. The shorter zip also curves around the bottom of the bag a little further than usual meaning that with both zips open the whole things opens up like a blanket, unlike most bags which are effectively pleated at the bottom thanks to the zip. And in case you were wondering about cold air entering where the two zips join there is a healthy overlap to stop this from happening. The bags also come with left and right zips meaning that you can link two together to make a double, which we have done. A nice feature.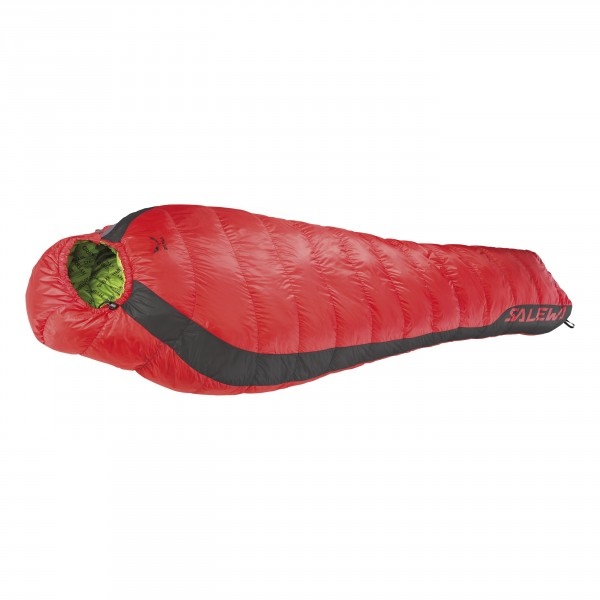 The outer is ripstop nylon, and whilst not actually waterproof, beads water droplets quite nicely. When the bag does get wet then it dries a little more quickly than our fully down bags. The inner material is a Polyester Microfeel Taffeta which is reasonably comfortable to slide into without clothes on at night.

Warmth wise it is rated as being comfortable down to -8, and usable down to -24. To date it has been used on the west coast of Scotland and in the Peak District, both in May and June. I've been perfectly comfortable in it without clothes, but my wife was definitely chilly in Scotland where it was a long way north of -8 and in reality didn't even drop below freezing. To be fair this has been the case with most of our sleeping bags over the years - she sleeps colder than me - but should be a consideration if you sleep cold.

The bag retails at £285. It weights 1.1kg, and packs down to 22cm by 45cm, though will go smaller with the included compression sack. All in all I like it, but am not sure I would do if it were -8.
More info on the Salewa website.