DMM Puma Climbing Harness
The Puma fills a fairly niche space in the world of climbing harnesses 13 year old (12 when we got this harness) boy is on the small side. He loves all types of climbing and has recently taken to trad climbing and leading his own routes rather than simply seconding. He's learned how to place gear and we score every one of his placements out of 10. The issue we were having was that for longer routes where a full rack of gear was needed, there are no kids harnesses with enough gear loops to hold the all the kit. His thighs are too skinny to wear any adult harnesses and he is too short to rack stuff on a bandolier so we were a bit stuck.
A fair bit of research uncovered this gem. It's actually an adult harness, but with leg adjustable leg loops that, on the smallest model, actually go small enough for his legs. And importantly, it has 5 gear loops so he can carry as much kit as he needs (note that the medium and large sizes have a massive 7 loops!). The harness itself is light weight (the XS is 350g). It's actually a women's harness, but we've not found that to be a problem on his physique. The waist belt is adjusted with a single buckle, but it's always possible to slide the webbing so that the belay loop is centred. The foam padding is comfortable enough that he's as happy abseiling, sitting and working a sport route or lobbing off at the indoor wall.
It retails at £74.99 which is a decent amount of money to pay for a kids harness, but if you are after a very small harness, specifically one to fit somebody with very skinny thighs, with plenty of racking scope, then it's pretty much perfect. Thank you DMM
The full set of measurements across the size range are listed on the DMM website. \https://dmmwales.com/climbing-products/harnesses/puma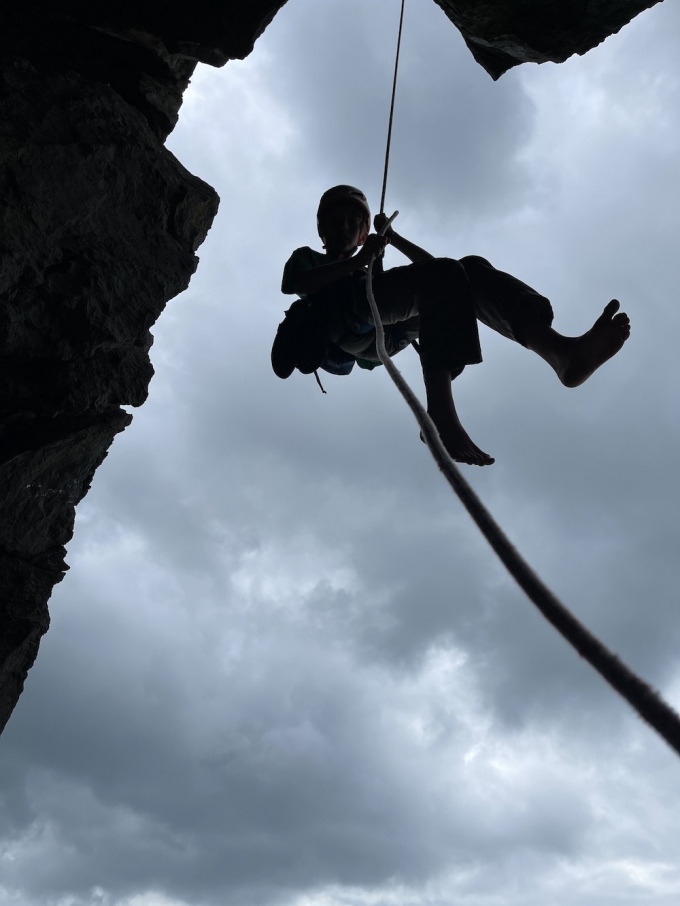 Abseiling in to St Govan's at Pembroke