Osprey Jet 18 Kids Rucksack
There comes a time in a kids' life when he or she needs to start carrying their own kit when out walking and camping. Personally I've been keen not to start this too early, preferring instead, to get them interested in the outdoors by going to exciting places and pushing them a little whilst doing so, but unencumbered by a sack full of stuff. Our oldest has just turned 9 so for his birthday we got him a modestly sized 18l sack. We could have simply given him one of our own day packs, or as seems quite common, stuffed a sleeping bag into his superhero school bag, but our philosophy is that if they are going to take to the outdoors, they may as well have decent kit that is designed for small people. It turns out that a few manufacturers make sacks sized for kids, but by no means all of them (it's interesting to note that when looking to get some kids fell running shoes recently Inov-8, one of the only manufacturers who had been making kids shoes, is stopping doing so). One such manufacturer is Osprey. I've reviewed a few Osprey packs in the past and have been generally impressed. They tend to be lightweight (important for a kid), functional (though at least one pack I had was arguably over endowed with straps and buckles) and durable (another important factor for any parent in two minds as to whether to shell out for specialist kit for kids).
Enter the Jet 18.
Weight
It's certainly light weight at 550g. I can't stress how important I think it is to keep the weight down. I did a lot of walking as a kid - trekking in Nepal, climbing the highest mountains in Spain and Greece, and completing the 14 Peaks on Snowdonia before secondary school. The emphasis on these trips was to get to out of the way places, and if this meant my parents carrying our stuff then that's what they did. Others may take the opposite approach and feel that it's better to load them down with their own kit from an early age and get them hardened, but I would speculate that a) they are not enjoying it as much, and b) they may not be so keen to carry it on into later life. Anyway...
How does it look?
It's a cracking burnt red colour, which should appeal to both sexes (it also comes in an unusual dark green which is equally unisex). The buckles and some of the straps are bright yellow and there are various reflective grey bits.
Features
As I kid I was into everything, fiddling, pulling, testing and experimenting.

Pockets
The pack has a generous double pocket in the lid, with a zip on the outside and one on the inside. The inside one has a plastic hook to fix keys to as is common in most adult packs. There's a hydration pocket down the back side of the sack, with a small metal hook to suspend a bladder from, and an elasticated loop on each arm strap to push a drinking hose through. The pocket is accessed without having to open the pack so there's less chance of getting any excess water on the bladder onto the stuff inside the pack. On the front there are two pockets, one zipped, and big enough for, say, a camera, some sandwiches, or gloves and a hat, and one open and elasticated, with a single plastic clip to close it at the top which is designed to take a helmet. Interestingly there is an elasticated pocket on one of the shoulder straps for a phone or compact camera, but there is no pocket on the waist belt. I like pockets on the front of my rucsacks as it means you can access more stuff without having to stop and remove the pack. Personally I would go for a pocket on each of the shoulder straps and one on each side of the waist belt, all mesh to keep weight down. On the plus side there are two further stretch mesh pockets on each side of the pack, big enough to hold a water bottle, or to fill with rubbish picked up along the way.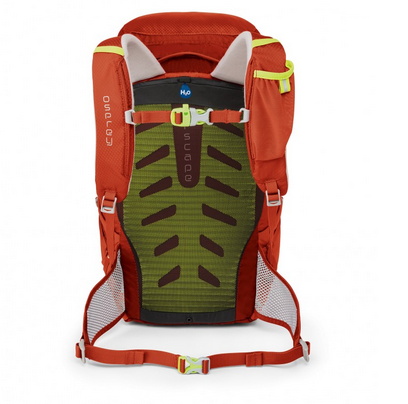 Back System & Straps
In between the bladder pocket and the back is a mesh lining inside of which is a ridged and rigid foam plate ergonomically cut with plenty of breathing holes. It's clearly a well thought out system which is comfortable and breathes well. It's not adjustable. There's a standard carry loop on the back at the top. Personally I would always like to see a second loop. Over the years I have hauled and lowered a large number of rucksacks by these loops and always like to attach via two loops in case one breaks. Also, attaching to two balances the sack better than using a shoulder strap. The shoulder straps are each fleece lined which makes them comfortable, but also prone to staying wet in rain, though arguably you'd be wearing a waterproof if it were raining so its less of an issue. Each is adjustable via the usual buckle system. There's a mesh waist belt and an adjustable (by sliding up and down) chest belt with a built in mini-whistle for emergencies. And last, but not least there is a single criss-crossed compression strap on each side of the pack, fixed at the bottom end, with an adjustable, but non open-able buckle at the top end. Sadly these straps are not long enough to get around a sleeping mat of any description and would only be useful for attaching a waterproof or other clothing.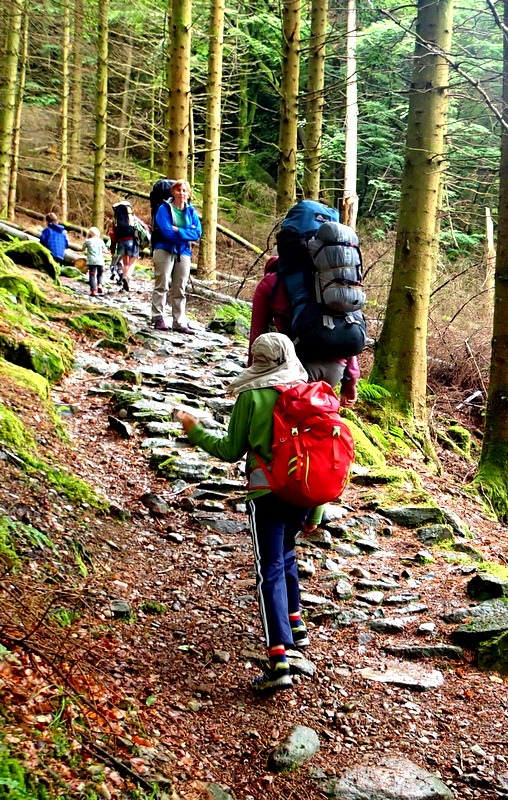 Easing into the idea of him carrying his own kit. A short walk through a midgy wood into a wild camping spot in the Lakes with a lightly loaded pack. Note that the younger kids further up the path have no sacks, but the adults are heavily laden. Not a single kid complained about the steep walk.
Summary
Essentially a miniature version of an adult pack, with all the same features you would expect, but sized to fit kids. Our eldest enjoys wearing it. It's comfortable and adjustable, easily holds a sleeping bag, his book, torch, some clothes, and more. If I had one quibble it would be to add a few more fun features that kids would 'approve of'. Perhaps a fold away drinking mug in its own pocket or a built in compass to complement the whistle. It retails at £35 which is an absolute snip considering the feature list and build quality. Osprey also do a 12l version of the same pack with the same feature set, and then a different model called the Ace which comes in two sizes, 38l and 50l. Plenty to go at as they get older...
More Info: Website | Facebook | Youtube | Twitter