When I was a kid I my folks simply dressed me in jeans and a jumper for the most part. If it rained or was windy I put on a basic waterproof, ran around and ended up wet! I remember my first piece of dedicated outdoor kit. It was a blue Javelin fleece. Bobbly on the inside. I see them around from time to time still now, retro museum items I suppose. Things have come a long way. We now spend a good chunk of our money on car seats, beautiful Scandinavian high chairs, and other paraphernalia for our kids, so why not splash out on a bit of proper outdoor kit? Kozi Kids have recognised the need and put together a range of hard wearing, indestructible softshell clothing. My lad has been wearing the jacket for a few months now and like it. It's warm, wind proof and fairly waterproof. So far he has not lost the button-on hood which is fleece lined, along with the rest of the jacket. It's made in Sweden which seems to be a sign of good quality. It's showing no sign of wear and tear yet. It has two zipped pockets, one on the left breast and one on the right waist. He loves the Velcro tabs on the zips (I'm surprised we haven't lost them yet!) and the fact that he has glow in the dark reflective bits when we are out for a night run. The jackets retail at £49.95 which is probably more than I woudl pay for an average jumper / jacket for him, but given it's quality and the fact that his younger brother will grow into it, I think it's good value. Looks great too which is important as it means he will wear it.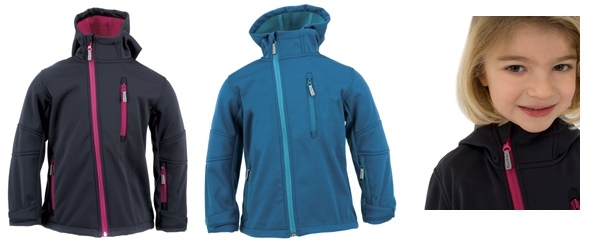 More info on the Kizi Kids website
The new softshell Jackets and Trousers are the ideal waterproof and breathable layer to keep the kids dry and protected from the rain whilst looking incredibly cool. The 3-layer construction of the soft stretchy softshell fabric includes a waterproof membrane, and jackets and pants come complete with visible reflectors, zipped pockets and detachable hoods for safety.
Kids will love the fun range of colours and styles in the Kozi Kidz range and will want to wear the clothes that will keep them warm and dry and keep on playing for as long as they can.
The new softshell Jackets and Trousers are priced at £49.50 and £35.00 respectively and are available nationwide. For stockist information call Kozi Kidz on 01302 746680 or visit www.kozikidz.co.uk.