VauDe Aqua Deluxe Box (Handlebar Bag)
I took this box out on its first outing over the weekend. I was headed on a long ride from the Pea District to Snowdonia and wanted a means of transporting more than I could fit in my pockets, but with easy access whist on the move. Own previous long rides I've used a seat-post mounted saddle bag which is great for aerodynamics, but not for access, requiring a stop in order to retrieve anything.

Fitting the box was a little fiddly the first time. I am pretty sure I could fit it more quickly in the future, but the instructions, whilst all there, require some judicious translation from whatever mutation of English they are meant to have been printed in and I had to make a few assumptions, apply some common sense, and also source a couple of pads of rubber to get a snug fit. Effectively there is a strong, but lightweight plastic pointing bracket that needs fixing to the handlebars which then allows the box to be attached and detached at the push of a button forever more. Fitting the bracket was the tricky bit. It is fitted by a combination of two plastic U-shaped connectors which bolt onto the bracket after being clicked around the handlebars (this was where I needed the rubber - the bag comes with two different sizes of U-shaped brackets and I had to use some rubber on the larger of the two to get it right). Once on there is a plastic coated metal cable that is threaded through the bracket, and around the handlebars to stop the whole thing rotating downwards when a heavily loaded bag is clipped on. Once it was on (took me about fifteen minutes) it was bomb proof.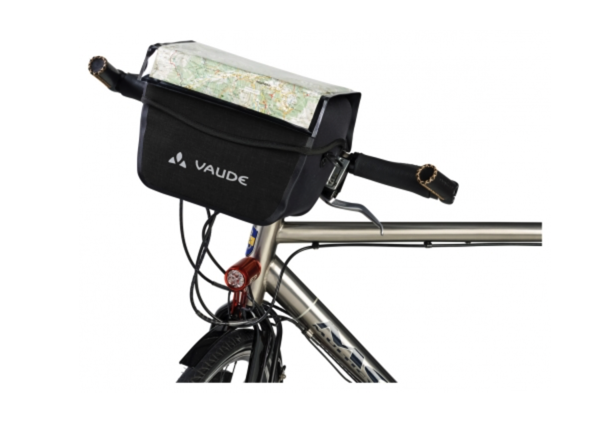 Once on, fitting the box is very easy, as long as you can move the break cables out of the way far enough to make room for it. I was just able to do this on my road bike. With a dry forecast and the fact that I use maps on my Garmin and phone I opted not to take the detachable map case which clips onto the top of the case via 4 push studs. The box itself is a lightweight hard shell with an outer covering of some sort of hard wearing waterproof fabric. There is a stiff plastic bar that wraps around there inside of the box at the level of the mounting bracket to help it keep its shape. The inside is mainly padded with a thin layer of plastic based foam to protect fragile things. There's a handy zipped, double pocket on the inside closest to the mount which I used for money, credit card, keys and spare batterie. In reality it would take a couple of paperback books easily enough. The main body of the box is then one large compartment which easily swallowed food, spare gloves, hat, waterproof (lightweight I must add), pump, and one or two other bits and pieces. The lid also has its own structure and when open forms a hand tray which you can empty the bag into whilst you dig around for whatever it is you want). If you want to close it firmly, there are two push studs, but I found no need, preferring to leave it loosely closed whilst riding so that I could access without having to stop. Unless you re barrelling along at high speeds the lid stays open allowing access. I did get a bit of rain towards the end and everything stayed 100% dry I am pleased to say. when I stopped at a shop I quickly unchecked it and took it in with me. There's a handy carry strap that clips to two buckles on the outside which means carrying it through an airport or for any great distance when off the bike need not be awkward.

All in all I think it's a very well made bit of kit, even if the fitting of the mounting bracket is a little fiddly first time. It retails for around £90 which is a reasonable amount for a handle bar bag, but it's very well made and should last a good few years so I'd say it's definitely good value.
Interestingly it is PVC free. See VauDe's statement from their website:
The VAUDE label "PVC-free" means that this product is manufactured 100% free of PVC (polyvinyl choride). It looks like tarpaulin canvas, is just as durable and waterproof, but is made from PU (polyurethane) coated fabric rather than PVC. PVC largely contains plasticizers (phthalates) that are considered to be harmful to your health.