Alpkit Brukit Stove & Billy System
Alpkit Brukit Review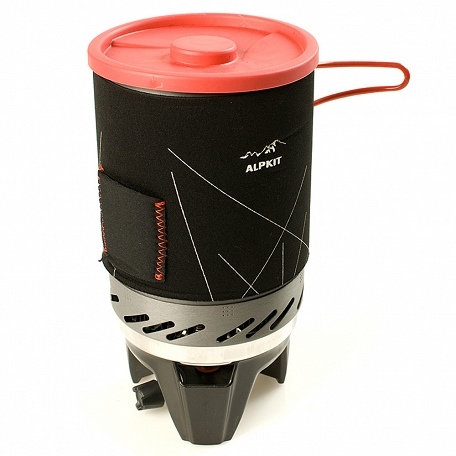 I already own a number of stoves so felt a little indulgent getting this one, but a) it's inexpensive, and b) it fills a very useful gap. Retailing at £35 for both the stove and the billy it didn't break the bank. Essentially it's a super efficient gas stove designed to only fit the billy that it comes with, which screws into the stove with three bayonet lugs a little like a camera lens to an SLR body. The base of the billy is fitted with a heat exchanger which is positioned optimally around the gas flame to minimise heat loss to the atmosphere. Furthermore the billy is covered in a thin neoprene skin to provide insulation both to keep the contents warm, and to allow you to pick it up without burning yourself. It also has a pair of fold away, curved, plastic coater, wire handles to allow easy one handed handling. The billy has a 1 litre capacity which makes it great for 2 adults (or 1 adult and 2 kids). It's designed so that the stove fits inside the billy along with a 100g or a 230g gas cannister, and has a plastic lid plus a drawstring bag, so the whole thing packs away to a very compact size equivalent to a large new roll of loo paper. Personally I'd have liked to see some plastic on the base of the stove supports so that they don't scratch the non-stick insides of the billy (I've simply popped a bit of duct tape onto mine), and also some sort of protection of the jet tube from the gas cannister which sits on top when in transit. Aside from that I've no complaints, and nothing but praise for it. It boiled quickly, whatever the weather. It's relatively stable despite being a bit of a tower when all three components are connected up. There are a few nice added touches such as and integrated Pizo sparker meaning no need for matches, the measurement graduations on the inside of the billy, and an elasticated bit of neoprene to hold some cutlery. I've used it for bike touring and backpacking when going light is paramount.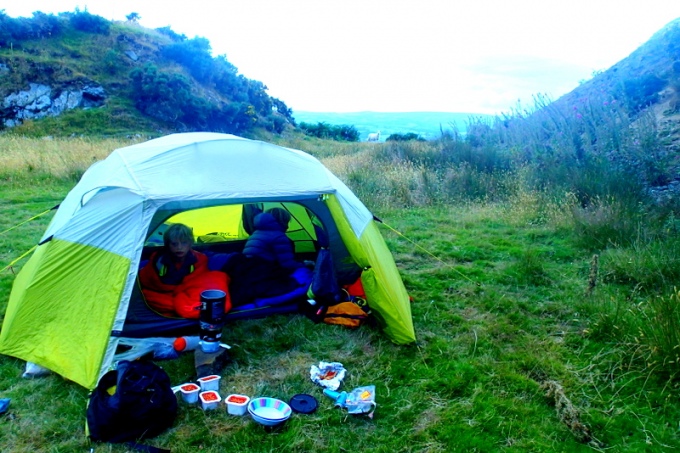 Cycle touring with two boys the billy was the perfect size for a packet of lardons, some onion, and four plastic tubs of beans.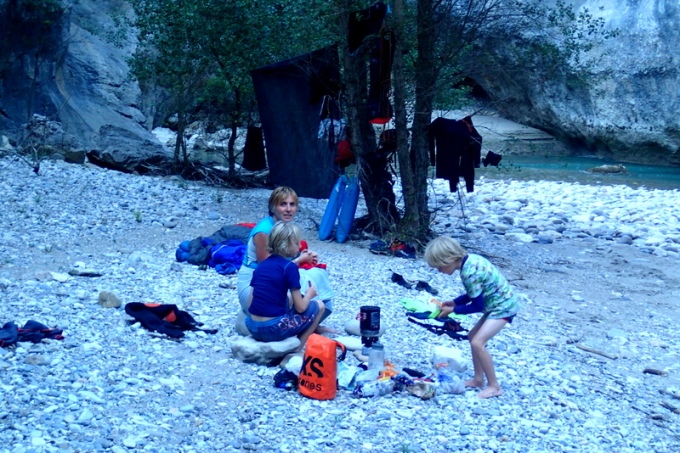 To feed supr noodles to two adults and two kids it did require two lot of cooking, but only for a few minutes each.
Official Spec:
Complete
Weight: 466 g
Height: 23 cm
Diameter: 12.5 cm
Capacity: 1000 ml
Packed dimensions
Weight: 466 g
Height: 17 cm
Diameter: 12.5 cm
Cooking pot (inc handles)
Weight: 206 g
Height: 17 cm
External diameter: 12.1 cm
Internal diameter: 11.3 cm
Internal height: 13.7 cm
Capacity: 1000 ml
Max capacity: 1200 ml
Lid
Weight: 32 g
Colour: Black
Burner
Weight: 172 g
External diameter: 12.1 cm
Height: 7.3 cm
Neoprene jacket
Weight: 32 g
Handles
Weight: 26 g
Length: 9.5 cm
Width: 3 cm