Montane Minimus Hybrid Jacket
I sadly left my last winter jacket at a service station and it has not been since. My requirements in a winter jacket are as follows: first and foremost it needs to be warm and waterproof; it needs to pack down relatively small and look good, and ideally have a couple neat features. The Montane Minimus Hybrid Jacket ticks all these boxes.

Over the last winter I have used it for dropping the kids at school, trips to town, heading out into the hills, and skiing in the Alps and it's been perfect for each occasion. It's warm and packable, but looks less bulky than an equivalent down jacket (I went for a large, and have a lightweight down jacket that can fit underneath it when it gets really cold - note that even at -10 skiing in the Alps there was no need for this as long as I kept moving). It's not shown any signs of letting any water in yet, competing with most waterproof jackets I've owned over the years. It obviously keeps the wind out too.

The hood is well designed with plenty of adjustment options to allow it to be fitted with or without a helmet. It can also be stowed by means of an elasticated loop when not in use. The zips, as well as being coloured a striking orange which marks the jacket out as something nice to look at, are very water resistant, with their own baffles, and even what Montane call a 'garage' on the pocket on the left arm (basically it's a small covered slot that the zip fits snugly into when the pocket is closed to stop water from entering there, clearly something that's been an issue for previous generations of jackets, and a good example of the sort of micro features that make Montane stand out). There are under-arm zipped vents, and the seams are narrowly sealed meaning a theoretical larger breathable surface area - another example of their fine-thinking. There are two spacious zipped pockets that sit nicely above your harness if wearing one, but it's missing a zipped internal pocket for keys and a phone which is my only real complaint. There are fleece panels on the inside of the high collar meaning that you can zip it right up to your nose without it irritating your chin and mouth.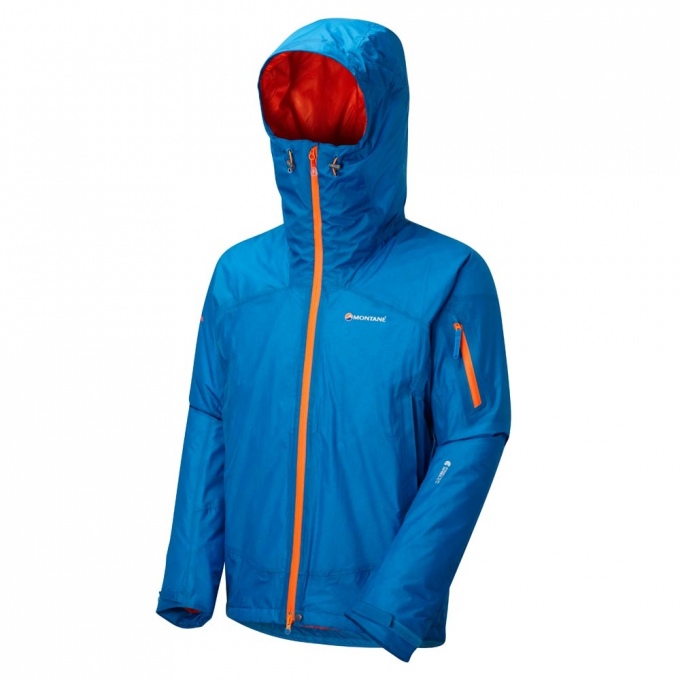 It packs down to a sensible size, about the size of a volley ball, and will go smaller still with compression. I have a large and it is spacious, but not baggy. Last, but not least I don't think I can remember having a jacket that as many people commented on for its looks. It's definitely a winner on that front, mine being a deep blue with orange zips. I'd have liked a few more reflective patches - it has some, but not many. It retails at £250 which, if you consider that it combines the qualities of a waterproof jacket and a down jacket, is pretty good value for money.

More info on the Montane website.