Thermarest Questar Sleeping Bag
It may come as a surprise to learn that Therm-a-rest don't only make sleeping mattresses. So successful has their brand awareness campaign for what is generally seen as the original mattresses, that you'd be forgiven for not realising that they also make sleeping bags, tents, hammocks and even chairs!

Given the success of their mattresses I was expecting great things from this sleeping bag, and it has not disappointed. It's a 3 season bag, meaning that it's rated to be comfortable down to about zero degrees Celsisus, but will stretch a little lower than that at a push. It's been tested out so far on various UK-based trips this summer and autumn, from comfortable nights in a camper van, to multi-day bike packing trips in a tent, a few bivvy's thrown in for good measure. It's also done a summer trip to the French Alps. Its principal user is my wife who generally sleeps very cold; I am pleased to say that she has given it a cosy thumbs up for every outing so far - high praise indeed.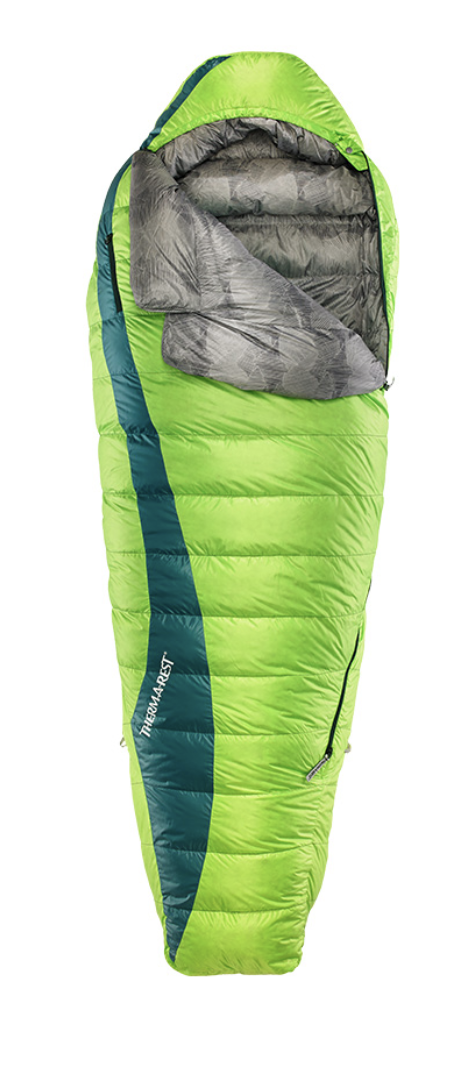 One of her favourite features is the fact that getting into the bag is far less uncomfortable than on most other bags. Bare skin does not contract and sprout goose bumps on initial contact, it's soft and cosy immediately. Therm-a-rest have included what they call ThermaCapture technology to the seams to keep heat inside the bag. Perhaps this helps with the initial comfort-feel, but whatever the surface, it works well.

I've long been an advocate of down bags over synthetic on the basis that they are lighter. On the flip side down bags have a reputation for being a poor choice for multi day trips where the down accumulates moisture and the bags become both heavier and less effective as time goes on. With good tents and bivvy bags this has become less of an issue, but manufacturers are also fighting this issue from the inside out. Therm-a-rest are no exception and have filled the bag with Hydrophobic down. Essentially the feathers are treated to repel water. Add to that the fact that the outer itself also repels the stuff (whilst remaining breathable) and you have a bag that is both light, and water-resistant to a large degree. It's not going to stand up to being immersed in a lake, but it has certainly not shown any signs of clumping that traditional bags would have done.

As a bonus factor, the treatment that the down has undergone is environmentally friendly too. If an ethical standpoint is something that you like to take account of then Therm-a-rest also give some serious thought to the down that they use. See https://www.ultralightoutdoorgear.co.uk/ethical-down-i395

There are a few more features which are worth mentioning. Fairly common in modern bags, it includes a small zipped pocket for keys, phone, torch etc. Much more innovative however, and clearly an attempt to marry their main product line with the bag, is a pair of what they have called SynergyLink Connectors. These are essentially very lightweight elasticated mesh straps that run across the back of the bag and allow it to be fastened to the mattress underneath so that when you turn over in our bag it acts more like a blanket or quilt and stays in the position it was in, as opposed to twisting with you. The straps are removable, and I keep mine in the zipped pocket in case I want to use them.



The side zip and the hood baffle both work nicely without snagging badly.

The bag comes in three sizes, details below, and retails at £200-£225 depending on the size. That's a reasonable price for a 3-season bag suitable for most situations, especially given the feature-set it comes with. I look forward to seeing what they come up with next.


Therm-a-Rest say:
Three season comfort in a feature-packed hydrophobic down bag. We've loaded this bag with the comfort-enhancing hallmarks Therm-a-Rest bags are known for, such as our SynergyLink Connectors, which integrate the bag with a mattress, and our ThermaCapture Seams that trap your radiant body heat. Stuffed with water-resistant 650 fill Nikwax Hydrophobic Down, and sporting integrated Quilt and Blanket Loops for sleep system customization, the three-season Questar is ready for your next backcountry adventure.
• Price: £200 - £225 depending on size
• Sizes: Small 156-168cm; Regular 170-183cm; Long 185-198cm
• Weights: Small 946g; Regular 1062g; Long: 1166g
• Fill: 650 Fill Nikwax Hydrophobic Down
• Fill weight: Small 470g; Regular 540g; Long 610g
• Nikwax Hydrophobic Down absorbs less moisture than untreated down. This keeps you warmer over a greater range of conditions, and allows it to dry and restore performance faster.
• Nikwax Hydrophobic Down is formulated to be easily retreated at home using Nikwax DownWash and DownProof.
• Water-based formula that's fluorocarbon-free and safe for you and the environment.
• SynergyLink Connectors: Integrate the bag with a mattress for optimal comfort and efficiency; removable for versatility.
• ThermaCapture Seams: Trap radiant body heat and retain warmth without adding bulk or weight.
• Zoned Insulation: Maximizes warmth and saves weight.
• Toe-asis Foot Warmer Pocket: Rapidly warms cold feet.
• Quilt and Blanket Loops: Customize your sleep system by layering our quilts or tech blankets for increased warmth.
• Additional features: Heat-trapping draft collar, full-length zipper draft tube, snag-free zipper, cinchable hood and external zip pocket.
• Stuff sack and storage sack included