Therm-a-Rest Mondo King 3D Sleeping Mattress
I've reviewed quite a few mattresses over the years, but never anything on this scale. The Mondo King 3D is a giant. First off it's big before it's even inflated. I am testing the Large which weighs in at a mighty 2.5kg (there's an XXL which tops 3kg!). Its packed dimensions are 66cm long and 18cm diameter. It's basically for car book and base camp camping only. There is no way you would want to carry this for any distance.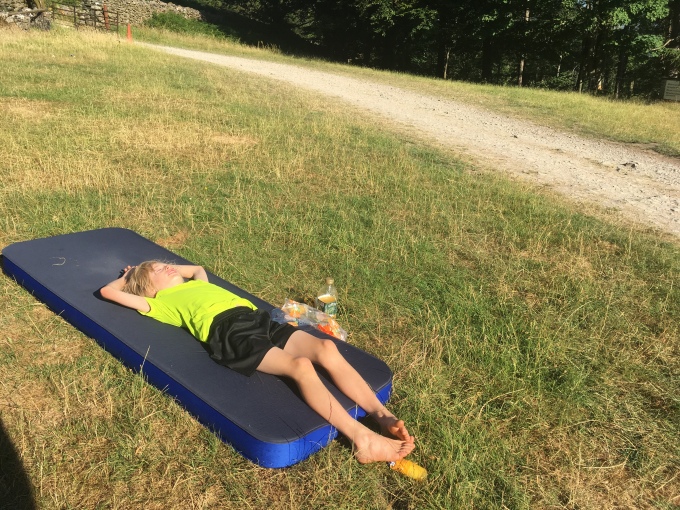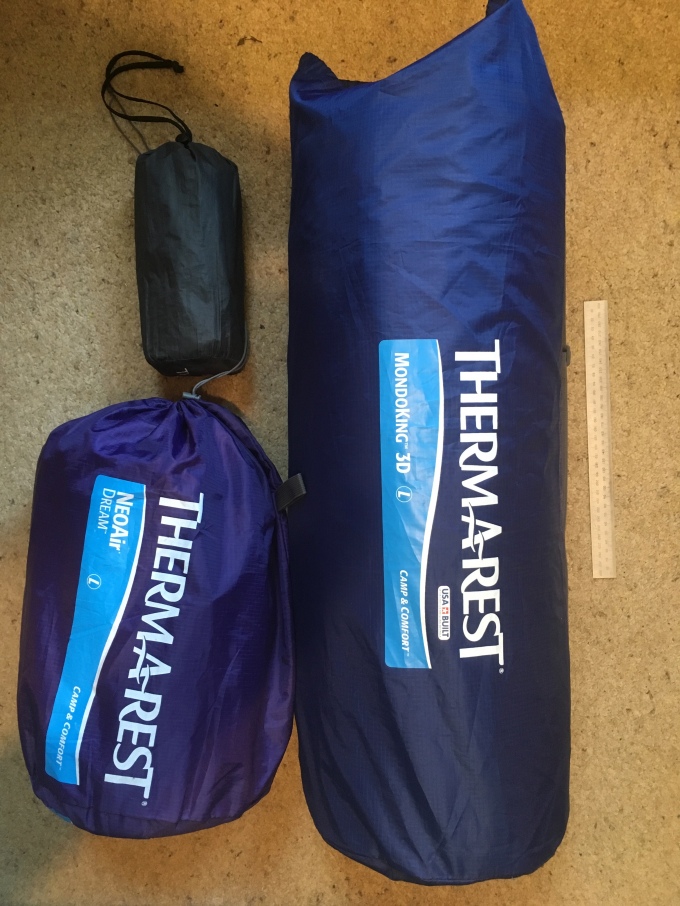 Three Therm-a-Rest models: The Neo Air Lite (smallest) (review), the Neo Air Dream (middle) (review) and the Mondo King 3D (biggest)

Once you are over the size of it - I was a bit taken aback when it first arrived - it's important to understand why it's so big. It's size when inflated is a whopping 196cm by 63cm, and it is 10cm thick (the XXL is 203cm by 73cm and 10cm thick). That is not far off the size of a single mattress on a standard bed. Because it has vertical side walls it's a true width measurement too, meaning you can roll over on it and not fall off! The reason for the whopping size is that inside the outer is a matrix of foam. This does a number of things. Firstly it immediately expands when you open the valves and air audibly rushes in, meaning that it is probably the first truly self inflating mattress that I have owned. It does take about half an hour to completely fill and you can still put three or four lungs full of air in once it is done, but it genuinely inflates itself, so no more light headed moments in the tent! Secondly it make it warmer. Sleeping mats have an R-value indicating the level of thermal insulation they provide from the ground. Sleep on snow or ice with nothing between you but a tent groundsheet, two layers of sleeping mat outer and a sandwich of air and you will feel the cold. Some mattresses include feathers or other insulation held within baffles in the structure. The Mondo King has a hefty matrix of foam which gives an R-value of 11.4 meaning it's good down to -40 degrees Celsius.

I've described how easy it is to inflate (though what I didn't say was that if you are in a hurry and have to do it manually then it's a good two to three minutes of heavy breathing that's needed). But equally important is how easy it is to deflate. It has two valves, both at the same end, purely for speeding up the time taken to deflate the thing (they have provided entertainment as my two boys have 'raced' to blow it up with a valve each ;-)). I ran a little experiment and compared how long it takes to deflate compared to two other Therm-a-Rest models, the Neo Air Lite and the Neo Air Dream. The Mondo King was 100 seconds, the Dream was 80 seconds and the Lite was 60 seconds. See the videos below.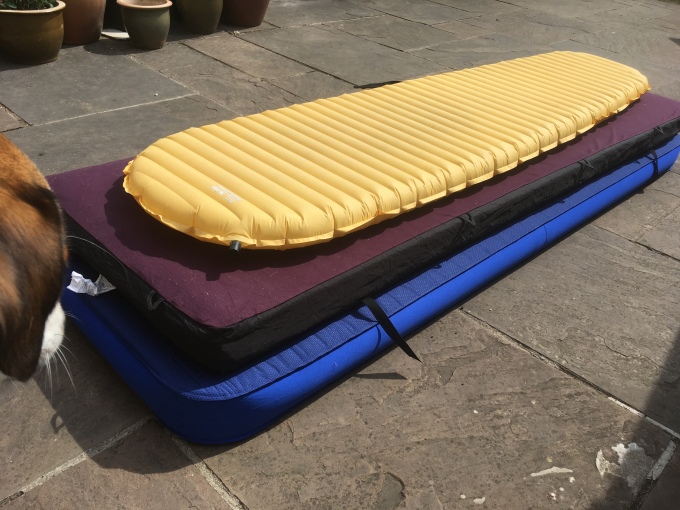 Three Therm-a-Rest models: The Neo Air Lite (smallest), the Neo Air Dream (middle) and the Mondo King 3D (biggest)


I guess the most important thing is the comfort level of the mattress. At 10cm thick it soaks up pretty big lumps in the ground and still gives a comfy, level surface. I've slept on it a number of times now and have absolutely no complaints. It retails at £180 which is a lot of money for a mattress for camping, but if you are spending any length of time sleeping in the same place then it's probably an investment worth making.
More info on the Therm-a-Rest website.