Review - Ajax Waterproof Jacket from Montane
Montane Women's Ajax Jacket Review

I've had my previous waterproof jacket for 15 years before it fell apart, I know this is likely past most manufacturers expected lifetimes for a jacket, but I like to push the life expectancy and would rather pay a little more for a jacket that will last. The last jacket was very well used and versatile, so I wanted to get another jacket that would be as durable and could be used for a variety of outdoor activities.

Main uses

The main use of the jacket would be for mountain walking, predominantly in The Lakes and Wales but occasionally in Scotland, across all seasons. I would also like to use it in the Alps when I go on my annual skiing trip. In addition, am a keen runner, so it would be used in bad weather conditions when my lightweight waterproof wouldn't be enough. As you can see, I demand a lot from a good shell jacket!

My criteria

It was important to me that the jacket was lightweight but durable, had taped seams, good pockets that could hold a map, compass amongst other essentials. I also wanted a hood that would be big enough to wear with a hat / helmet but snug enough that it can be used on its own without blowing off.

The review

I'll start with the cool factor – the colour! There is a choice of 4 colours, black, pink, dark blue and light blue. None of which really rocked my boat, but colour wasn't the only reason for purchasing this jacket. If visibility on the fells was a criteria of mine I would have opted for pink but went for the safe, no colour clashing, dark blue. The sizing seemed appropriate. I'm a size 10/12 and opted for 12 to give me more space to layer up and I have found that this has worked well for me.

The material has a soft and flexible feel to it but without a sense of losing any durability, which is different to the predecessor (in my wardrobe) which had a stiffer feel to the fabric when packing away (but it was 15 years old and technical jackets have come along a lot in this time). This flexibility allows the jacket to be packed away easily and stows in less space than my previous one.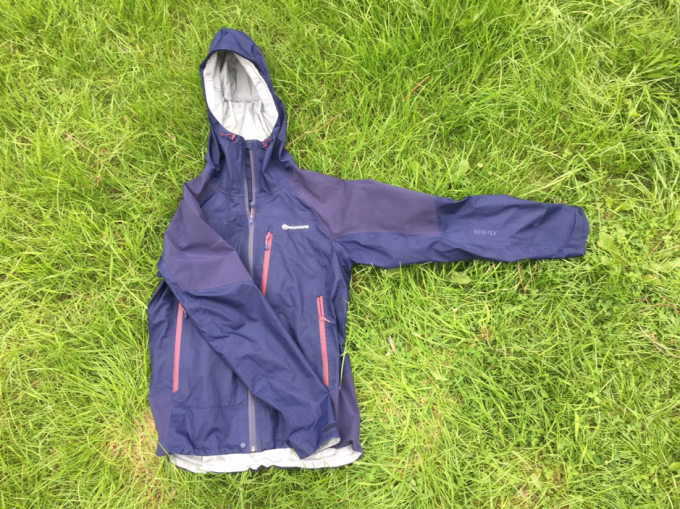 In terms of standing up to the weather, I've been caught in a variety of conditions in the jacket including very strong winds and driving rain and a Cairngorm snowstorm for a number of hours, and I remained dry and warm throughout. In addition, I have also used the jacket as an emergency windproof on good weather days, because it takes less space than my heavier windproof jacket in my rucksack, and it's worked really well in these conditions too without any undue condensation or perspiration build up to note.

It's relatively close fitting so I cannot wear my Winter duvet jacket underneath it, you need to layer up and use thinner down/pile jackets to act as a thermal layer. That said, using layers I've coped with minus 15 degrees celsius and managed to keep warm (as long as you keep moving) and I feel the cold before most usually. However, I didn't buy the jacket as a thermal jacket (it's a shell) but it's helpful for me to consider what can be worn under it practically, before it starts to affect your movement.

The full length AquaGuard front zip is really good at keeping the weather out, however this does make it a bit stiff to move up and down. This is great in terms of waterproofness, but a bit annoying when you have to take your gloves off to open and shut the zip and pockets. I'm hoping over time that this loosen a bit.

There are other key features of the jacket that I really like. The dropped rear hem, which gives extra protection in the wind and rain; and the pocket storage is ample for what I need them for (although access can be difficult at times as mentioned above). The main side pockets are able to fit a weatherproof OS map into them, it's a little a bit of a squeeze, but it does go in.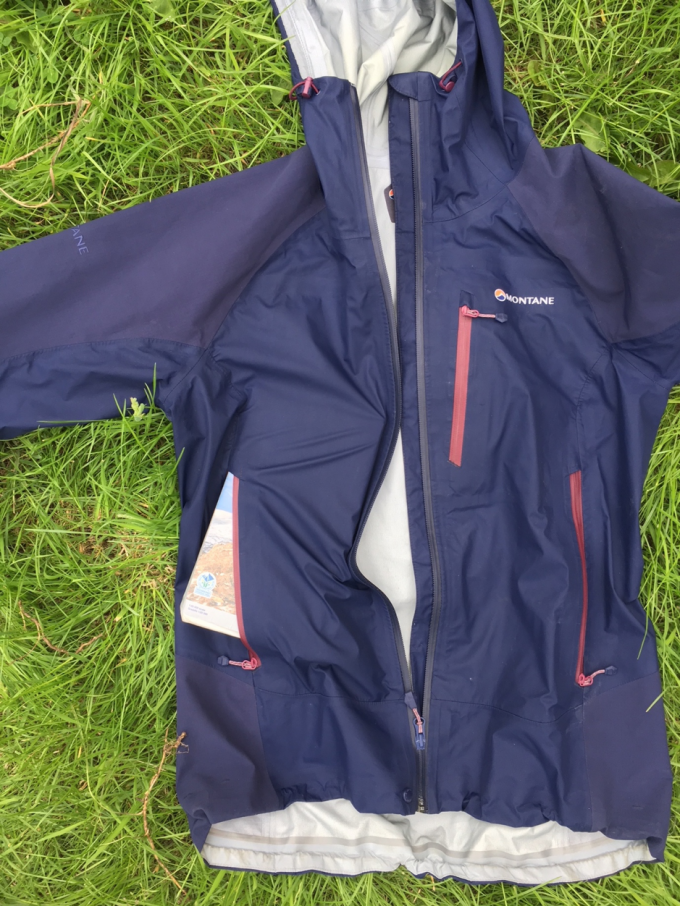 I know the purpose of the jacket isn't designed for running but the close/technical fit of the jacket means that I can comfortably run in it and move my arms without constraints, but without it feeling like it's ballooning around me - this definitely ticks the multi-purpose box for me.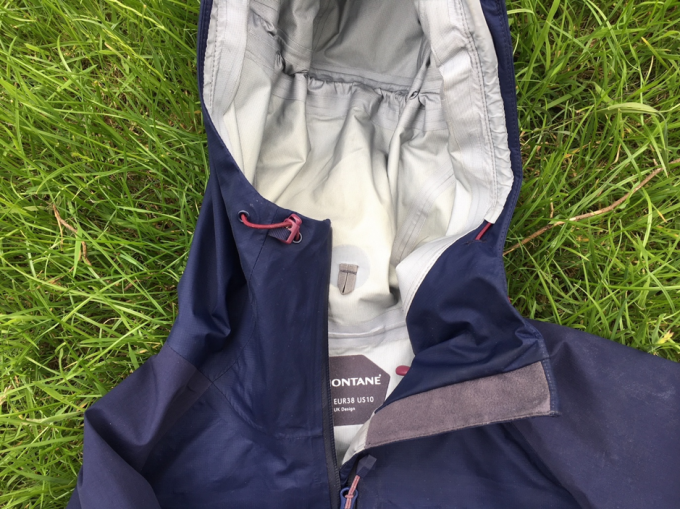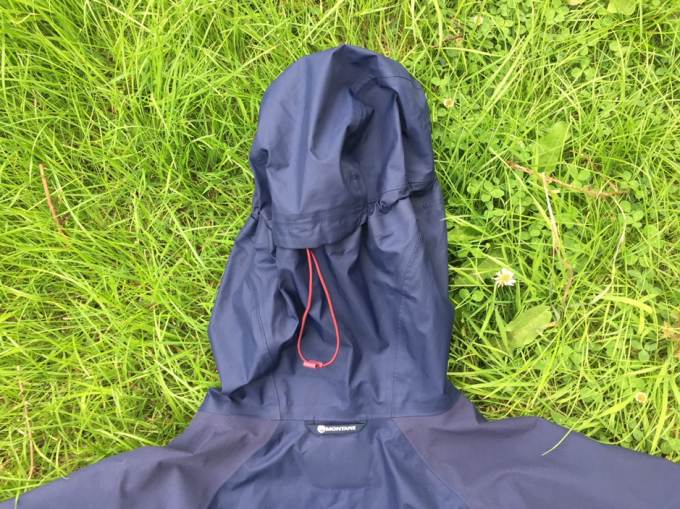 The adjustable hood is also very well designed so that you can wear a hat, helmet or nothing and it remains in place in head strong winds. It's easy to adjust with a compression pull cord on the rear to adjust the volume of the hood and some internal draw cords to adjust the hood around the face neatly.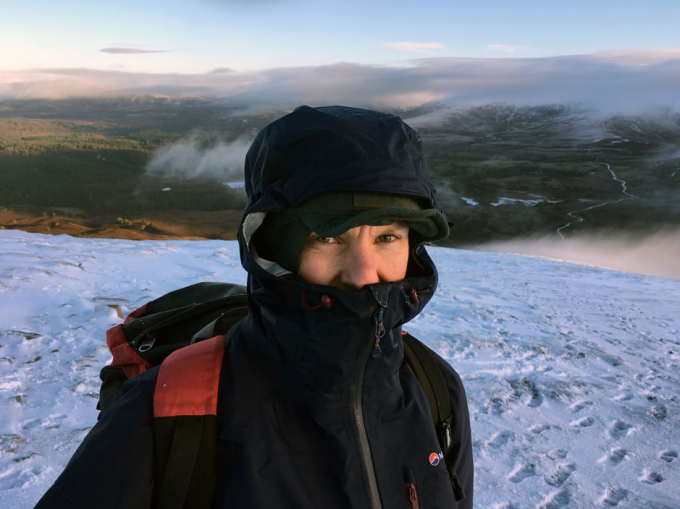 The high collar, combined with a buff, offered excellent protection in full Winter weather conditions, with the internal microfleece on the collar ensuring it was comfortable too without rubbing on your face.
The Price

The RRP of the jacket on the Montane website, is £290, at the time of publishing. This feels like a fair price for a jacket of good quality build and in comparison to similar product on the market. You can buy jackets that have similar features and material use for less, but my gut instinct is that this jacket will outlast many of those, so worth the extra investment.

Summary

Overall, I'm really happy with the performance of this jacket, it has kept me dry and warm and I have been able to use it for a number of different activities. My only current criticism has been the stiffness of the zips, but as I have Raynaud's getting colds hands is no-no for me and will not necessarily be such an issue for other people. We do have other Montane equipment and clothing, so I'm hoping from the past experience and knowledge of the brand that I'll get the same good level of longevity for this jacket.

I would definitely recommend this jacket to anyone looking for a good, all-round technical mountain shell jacket.
More information on the Montane website.
Reviewed by Ayshea Furlong