I've had this tent on test now for a while and although it's not always been my first choice of tent it definitely is my 'go to' tent when I need something lightweight.
Given the lightweight single skin design if you are looking for something that can handle anything the elements can throw at you then this isn't it but if you want a tent to chuck in a back pack, on your bike whilst touring or even in a canoe or kayak this is an ideal choice. And for the adventure racer looking for something super lightweight this tent would definitely be worth considering.
The tent it a classic ridge design with two interior poles that slot into sewn pockets / slots in the ground sheet. The F10 Flexlite poles themselves are super lightweight and have so far been very strong – they are made from hard anodized and heat treated aluminium. But what's great about this tent design is that you don't even need to carry the poles! You can substitute them for your normal treking poles, canoe paddles or a set of kayak split paddles. I've even tried a couple of sticks which did the job! If you want to go even more 'Ray Mears' the tent has loops which means it can even be pitched by suspending it between two trees!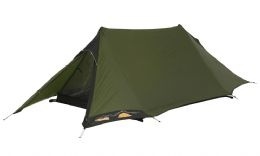 For me the first test of any tent is can you pitch it in the dark, without reading the instructions and with the Vango it's a resounding yes! As its name would suggest the Vitesse (meaning speed or fast in French) is so simple and fast to put up, which is ideal when you are in need of a shelter right now! In fact this tent can be pitched (with a little practise) in under 2 minutes (Vango quote 5 minutes pitching time).
The tent sleeps 2 people, it's a little bit of a squeeze (130cm wide) but no less roomy than you would expect from a tent of this nature. There is room to sit up and plenty of for the average person to lay down (220cm long) without your feet up against the tent skin. My only gripe would be the fact that if you are an 'active' sleeper you can knock out the central poles leading to comical collapse, but they are so easy to put back in place it doesn't seem to matter. And this happened to me much less often than I anticipated.
Once pitched the tent has useful glow in the dark toggles and piping that help you to find the tent and the door in the dark. The mesh doors seemed fine enough to keep the bugs out and allowed plenty of air circulation to prevent condensation inside the tent.
I was a little worried that the single skin design wouldn't be particularly water proof but my initial concerns were unfounded. The Vitesse holds up to a down pour well. The ridge design however does mean that careful pitching into the wind is necessary to maintain the tents shape in high winds. So far the flysheet has been very durable but if I ever do manage to damage the rip-stop Protex the tent comes with a handy repair kit.
The Vitesse packs down pretty small with a compression pack size of 43cmx13cm. However, if you choose to ditch the poles and embrace the alternative pitching methods the tent shell can be stuffed into the bottom of a day-sack. You can even ditch the pegs if you are feeling particularly brave and go for the suspended pitching with a few rocks to keep the tent's shape.
Overall if you want to travel fast and light yet need a reliable shelter that's more than just a bivi-bag then the Vango Vitesse should be high up your wish list.

Key features
2 Person
Can be pitched with Treking Poles or suspended between trees
Single Skin 5000 Pro Tex Siliconised Flysheet Fabric
HD Nylon 8000 ground sheet
F10 Flexlite Aluminium poles
Reflected Webbing
Repair Kit Included
1000g trail weight (without poles)
1300g total weight
Reviewed by Dan Webber