Black Diamond EXL Rucsack
I've had this bag a while now and it's proved to be a favourite on many fronts let down only by its volume. At 20 litres it's really no more than a day pack with room only for your essentials. Its design is very ergonomic and compact, and it fits very snugly if moving fast. A word of warning though: I did wear it for a 15 mile run one day and whilst it synched up tightly and didn't move for the entire run, I learned an important lesson in that a little looseness in the straps allowing some movement is probably actually a good thing; the following day my back felt bruised all over. It features basic chest and waist straps with lightweight plastic buckles (the chest strap buckle incorporating a small whistle for emergencies. One mild frustration is the waist belt: I haven't yet got to the bottom of this, but it seems that the buckles slide from their last position when the belt is not used and dangles down. It's not a big deal, but it means that you need to re-set the buckles, both of which are adjustable, more often than with other packs.

The main body is pretty compact, but features a hydration bladder sleeve down the back and a small internal mesh pocket for keys, phones etc inside the lid. There's then a small external pocket suitable for a compact camera, some lightweight gloves and a couple of energy bars. The curious design feature is the side stretch pockets on the sides and front of the bag. These allow extra stuff to be stowed that can't be fitted inside the bag, with some compression straps to stop stuff falling out, but the material is not really stretchy enough to allow anything of any size (a jacket for example) to be stowed, and the compression straps need to be undone in order to access the main body (this is the principle reason why the pack can be synched up nice and tightly when necessary so it's swings and roundabouts really). Unfortunately the stretch pocket on the front is not stretchy / big enough to stow a climbing helmet which is a shame as the pack is a great size for long mountain routes if you sling your rope/s over the top for the walk in and out. There is the compression cord on the front for a jacket, but as it says in the blurb below this only really works for a very lightweight jacket.
Essentially this is a well thought out lightweight day bag which is fit for purpose, but could be so much more if the main body was a smidgen larger and the stretch pockets were stretchier. Retails for around £65 which is pretty good value in my opinion.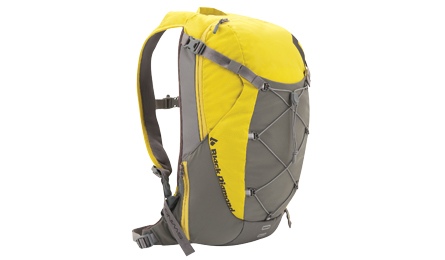 Official Blurb:
The EXL is a highlight from the Velocity series of Black Diamond packs which are lightweight and compact multi-sport packs, designed for on-the-go trail performance, from running to biking to hiking. The EXL is a highly adaptable daypack with SwingArm shoulder straps for fast & light balance and comfort.
With slightly more volume and a cleaner design than our Blaze pack, the Black Diamond EXL is the go-to choice for fast-and-light trail missions, ridge scrambles and all-day hikes. Our extended-range SwingArmTM shoulder straps help the pack move with your body while you're on the go, and the zippered panel access provides access to layers, water and other essentials. We also added side stretch pockets for gels or snacks, and a front compression cord to keep a light jacket at the ready.
SwingArm™ shoulder straps with extended range and OpenAir backpanel
Zippered panel access
Side stretch pockets and front compression stretch pocket with front compression cord
Retractable trekking pole/ice axe loop and bike light slot
Hydration compatible
Volume : 20 L, 1,220 cu in
Average Stock Weight : 700 g, 1 lb 9 oz