Osprey Farpoint 70 Rucksack
Back in 2003 I did a round-the-world trip and saw a number of bags along the lines of the Farpoint. Essentially it is a bag for travelling. Lightweight, plenty of pockets and a removable day-pack. This model a 70 litre version and as such, is most suited to travel in hot climates where you are not carrying a great deal of stuff. Even in hot climates one of my memories of the 2003 trips was seeing people with similar sized packs bulging at the seams and thinking what a pain it must be each time you need to access something, to have to break the seal so to speak! It's all very well having plenty of pockets and compartments, but you need to be able to access them.
So what's it like in practice? Well, it's all very well claiming to have lots of compartments, but with the Farpoint these are mostly in the removable day sack which features two water bottle mesh pockets on the outside, an external pocket and an internal pocket (with key clip), as well as a compartment and hanger for a water bladder. The main bag has its main compartment and then two mesh document pockets on the inside of the large lid that opens to give access to the main body of the bag. These work best when the thing is not packed to bursting (and this includes the day bag which connects onto the other side of the panel to the pockets.
It's also all very well being light weight, but that really renders the bag no good for year-long trips which would almost certainly see the thing worn to shreds. That said, the fact that the rucksack straps can be zipped away when going into the hold of a plane or bus will help it fare better than a standard sack, especially given the robust handle on the top and side, just begging to be grabbed by a baggage handler.
For the times when you simply do have more stuff than will fit inside there are a couple of gear attachment loops on each side, suitable for clipping things to, but not much else, and a pair of long straps at the base of the pack suitable for a roll mat or sleeping bag. There are also a pair of compression straps inside the main body for synching things up nice and tight if necessary.
Above all both the main bag and the daysack are relatively comfortable for a lightweight travel bag. Not comfortable enough to load it up and head out on a week-long trekk, but more than good enough for general travel.
All in all, retailing at £120 it's a great bag and perfect for short to mid length trips without too much kit.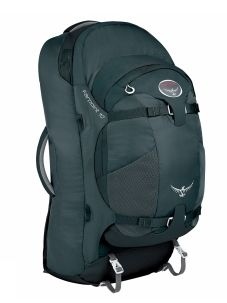 What Osprey say:
Product Features
Top & side carry handles
Straightjacket compression
Panel zip main compartment with lockable pulls
Gear attachment points
Removable sleeping pad straps
Zip & clip removable day pack
Zip-away suspension with panel stow slot
Day pack features: Top stash pocket; dual mesh side pockets; internal mesh pocket
Internal stretch laptop or hydration sleeve
Tuckaway harness
Back system Spacer Mesh back panel
Capacity 67-70 litres