LED Lenser XEO19R Head Torch & Bike Light
The LED XEO19R is a beast of a torch. Boasting up to 2,000 lumens and a throw distance of 300m it's the most powerful light I've yet owned. Not only that, but it comes with more accessories than you can shake a very large stick at. There are mounts for your handlebars, helmet and head strap, as well as a tripod. The mounting system is modular, with the battery unit and head unit clipping to the various systems, connected by different length cables, depending on what you are doing with the thing. You can even mount the head unit directly onto the battery pack for a beefy hand torch. In essence it has been very well thought through and covers pretty much every eventuality. They all come in a neat padded case so you won't lose any bits.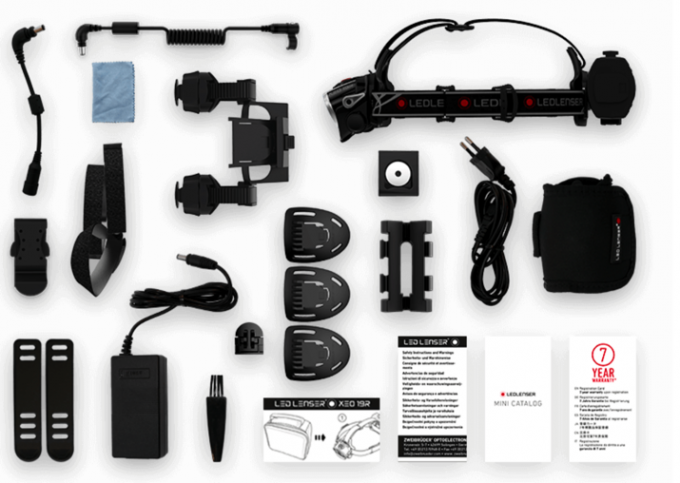 The head unit consists of two high powered LED bulbs, which can work together or independently of one another. The control on the top has a central on / off / toggle button, but also four separate arrow buttons. The left and right arrows control the separate bulbs, the front and back and central control both units simultaneously. There are ale LED Lensers usual zoom levers, one on each side of the unit, each controlling their respective bulb. The toggle system is the usual brighter, dimmer, strobe. As usual with modern torches there is a reasonably complex sequence to the buttons. So here goes (I got this sequence from another user review, possibly the most detailed review I've ever seen of a torch.

• Press button once for 25% beam.
• Press button twice for 100% beam.
• Press button three times for "Optisense Technology" mode – this adjusts the brightness of the beam according to the surroundings.
• Press button four times for strobe mode.
• Pressing it once more (five times) will return to off.
• Most lamps give a choice of brightness modes but the XEO19R goes one step beyond and allows you to choose any brightness level between 15% and 100% by cycling between then – just press and hold the required button for 2 seconds and then release the button at the brightness you require.

The extra options are controlled via the front and back buttons:

• Press the back button once for 5% mode – very useful if you get caught short on a low battery.
• Press the back button twice for 5% flashing mode
• Pressing the back button once more (three times) will return it to off.
• Pressing the forward button and holding it for 2 seconds puts both lamps into a boost mode, to drive the LED briefly to maximum power – after a while, it drops back down to 100% mode on its own. Tapping the forward button again will drop it back down to 100% and tapping it again will boost again.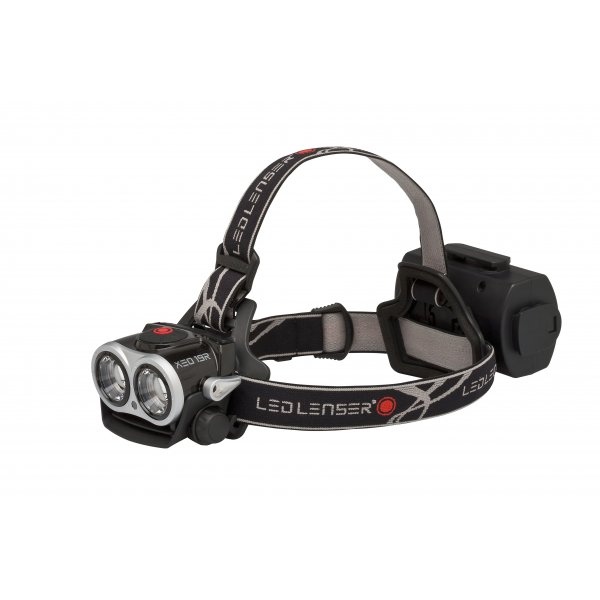 The head unit is air cooled which means that the faster you are travelling the more efficient it is, and the longer the batteries will last. The battery back has a plastic clip to stop the cable from coming uncoupled in use - very handy on nights when your hands are too cold to fiddle with such things. There's also a USB socket which can be used for charging other devices such as a mobile phone. Bith sockets are protected with rubber caps, which makes the whole thing waterproof, though the manufacturers don't recommend submerging it, or atleast not for long! Again, great for poor weather.

In use it's been brilliant. I've used it so far primarily as a head torch, with the head unit and batter pack both mounted on the large elasticated head strap. You'd have thought that it would be heavy to wear like this, but not so. The two things sit front and back and balance each other nicely, and if you get the elastic tensioned correctly there's no head-ache feeling and no wobbling of the torch. On the bike I've worn it primarily on the helmet with the battery pack slung underneath the cross bar, the two things connected by the long cable. I prefer to do it this way and have total control over where I am looking rather than via the handle bars at where I am steering! It also gets used regularly as a hand torch to watch the deer which are rutting in the field next to the house at the moment - it lights up the whole field very well indeed! I particularly like the fact that it is simple to switch it between the different mounts.

Battery power has so far been excellent and I have yet to run out whilst out and about. It charges quickly - the manual says 3 hours from flat - so is easy to keep topped up for the next run or ride. There's a rubberised push button on the battery pack which indicates, via a small LED, the level of charge in the battery, and also its status whilst charging.

The light retails at £249.99. That's a chunk of money to shell out on a light, but it's the absolute business as far as I am concerned. German engineering at its best. Compare the cost to the pain and inconvenience of a night time crash on a mountain bike or even a twisted ankle whilst running due to a cheap torch cutting out, or to the damage caused by an exploding charger (something reported with many of the cheap Chinese lights, but not with LED Lenser).

LED
• LED Configuration2 x Xtreme LED
• Luminosity1MAX 2000 lm - MIN 200 lm
• Lighting Range1MAX 300 m - MIN 100 m
• Battery Duration1MAX 20 h - MIN 4 h
Battery and Casing
• Battery4xNCR18650 Battery Pack 7.4V
• Battery Capacity238.48 Wh
• Water ResistanceIPX6
• RechargeableYes
Height and Weight
• Length (defocused)405 mm
• Head Diameter38.2 mm
• Weight478 g


More info on the LED Lenser website