I've reviwed a few high-end torches lately which have been useful for winter-biking, but these two products come in at the other end of the market. They are not designed to enable you to see, but are there to increase the chance of you being seen.
Below is the blurb from the press release. There's not a whole lot to say about them other than:
They are well designed - light weight, compact, and easy to operate, even in gloves. The fix easily to most bikes with standard spoked wheels and cable operated brakes and / or gears. Not really got any down sides. I will be using them whenever I am out at night, Oh, one more thing, they are very easy to remove and fit to different bikes, so no need for multiple sets for different bikes in the house-hold.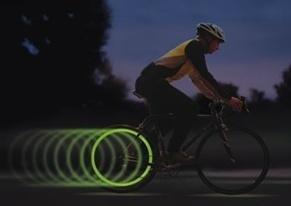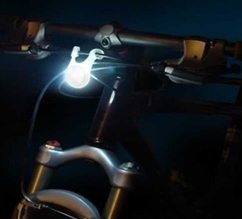 With the long and dark winter nights firmly in place Nite Ize has the very latest in LED product innovation. These two extremely easy to apply safety products are designed to make cycling much safer at night.
The SpokeLit fits most 3 cross spoke wheels, is installed in seconds and remains in position even during off road use. It is extremely compact, lightweight, shock/water resistant, and works from a push button switch which has either glow or flash modes. Long life batteries are included, combined with an efficient LED making the SpokeLit an essential cyclists accessory.
Available in 5 different colour options: Red, Amber, Green, Blue and Disco.
Be seen, be safe roll with LED wheels!
The BikeLit is a bicycle safety marker that provides active illumination at both the front (White LED) and rear (Red LED) ends of a bike promoting great visibility and safety. It is made from a flex and grip material which keeps it firmly in place at all times even off road. It is also extremely compact and lightweight and has a push button switch enabling the user to be in either glow or flash mode. The Bikelit is an essential piece of kit for dark winter nights.
Both can be seen along with the rest of the ingenious Nite Ize products on:-
www.whitbyandco.co.uk