Challenger Wetsuit - Aqua Sphere
A Triathlon
Last year I took part in my first triathlon (the Slateman in Llanberis, North Wales). I borrowed a wetsuit off a friend who is a little smaller than me and struggle to get out of it quickly after the swim. This year I entered the same event, but decided to do it in my own suit that fitted better, and was a little newer and more suited to swimming quickly.
I found this little synopsis of modern swim-suits on Wiggle which puts things into perspective.
About Wetsuits
Modern triathlon wetsuits were invented by Dan Empfield in 1987 and are customized to the needs of triathletes, they generally incorporate the following key features which differentiates them from a normal wetsuit. 1, Thinner and/or more pliable rubber near the shoulders. 2, Long zippers to facilitate quick removal during transition. In addition, tri wetsuits have a very smooth, but often fragile, surface. This slick surface helps to reduce water friction and allows a faster swim. Another advantage of a tri wetsuit is the added buoyancy that the wetsuit provides, this can provide triathletes with a considerable speed and energy saving advantage over swimming without a suit.
Introduction
Here I'm reviewing a brand new competition level swimming wetsuit, the Challenger from Aqua Sphere, launched this year.
At the event my folks came to support. My mum looked at the suit in admiration - she's a very accomplished seamstress amongst other things, having made me such items as technical waterproof winter mitts and fleece salopettes in the past - and recounted how their first wetsuits (they used to sail and cave) were made by gluing individual pieces of purpose cut neoprene together. It's conversations like these that highlight the speed of development of things like kit design and manufacture.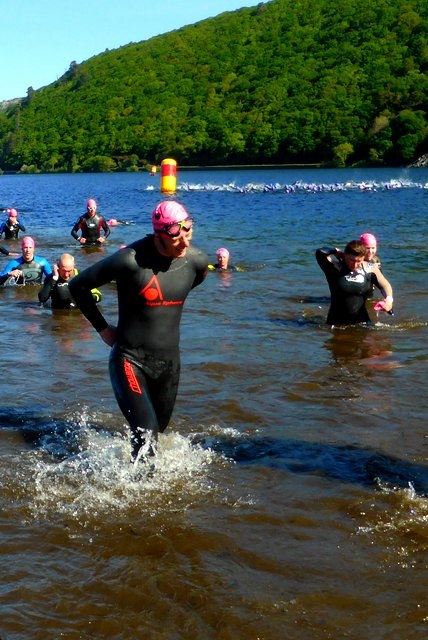 Exiting the lake at the Slateman Triathlon.
First Use
Even having borrowed a decent suit in the past it was a complete revelation to use this suit for the first time in cold water. I've managed for years in a cheap and ill-fitting shortie, surprised every time I wear it that it provides virtually no thermal properties whatsoever. Near where i live is a decent stretch of open water in the River Derwent where people swim on hot days. I have a theory that it remains colder than your average river as it is fed by the dams at Ladybower so the water in the river has probably been at the bottom of the reservoirs for weeks or months. Anway, it's always disappointinly cold in there (usually around 12 degrees I think). Having tried on the suit in the house my first port of call was the river. Putting it on was straightforward. I'd chosen a tight fitting suit for obvious reasons so I had to pull up the material around the legs a couple of times to make sure that it was snug - I've heard tales of people putting their finger nails through wetsuit material whilst doing this very thing, but have never felt in danger of doing this with the Aqua Sphere. Getting the arms in was also easy enough. The only troublesome bit s getting the zip done up all the way. Whilst it is possible to do it by myself it is ten times easier to have somebody do it for me. I have fairly wide shoulders so the top half of the zip is most tricky. There's a baffle inside the zipto stop water ingress and it's very important to make sure that whoever is doing up your zip lays this baffle flat before zipping - on one occasion this wasn't done and the baffle caught in the zip meaning that I was stuck in my suit until somebody could rescue me! Once it's on a couple of arm swings and leg raises settles it nicely. The real revelation comes when you enter the water. Aside from feet, hands and head I simply don't feel the water at first. It feels almost like a dry suit! As you start swimming a little water trickles in at the neck and down your back, but after the initial shock of that you don't notice it again. Th esuit is basically so tight fitting that water doesn't have the room to get in and cool your skin. The second revelation is the buoyancy. If you simply stop moving in water of sufficient depth you will float! It was an amazing feeling that first time, and one echoed by a friend who borrowed it for a swim in the North Sea a few weeks later.
Mobility / Buoyancy / Warmth
The thing that sets swimming wetsuits apart from shorties and other suits is the combination of mobility, warmth and buoyancy. Too much material and you gain in buoyancy and warmth, but lose out on mobility. Too little, and you gain in mobility, but lose out on the other two. It's a fine line getting it right. Aside from the initial swim, a couple more practice sessions, and the triathlon itself I have also spent a week on the Isle of Mull, swimming and kayaking every day in the wetsuit. It's proven to be outstanding in all of these activities. During the triathlon I swam breast stroke and it performed well. I was warm, my backside was buoyant (I never thought I'd write down those words!), and I had no issues with mobility. Whilst kayaking there was no chafing under my armpits, I was warm, despite jumping out the boat every now and then for a swim, and getting back in whilst still wet. On one calm morning I swam nearly two miles across from Mull to Iona (with kayak support) and was in the water for an hour and twenty minutes without ever feeling cold. I spent upwards of half an hour every day in the sea on Mull in the suit re-learning front crawl so that in my next triathlon I am not giving the rest of the field a head start of 4 minutes!
In the water for 80 minutes on the way from Mull to Iona off the west coast of Scotland.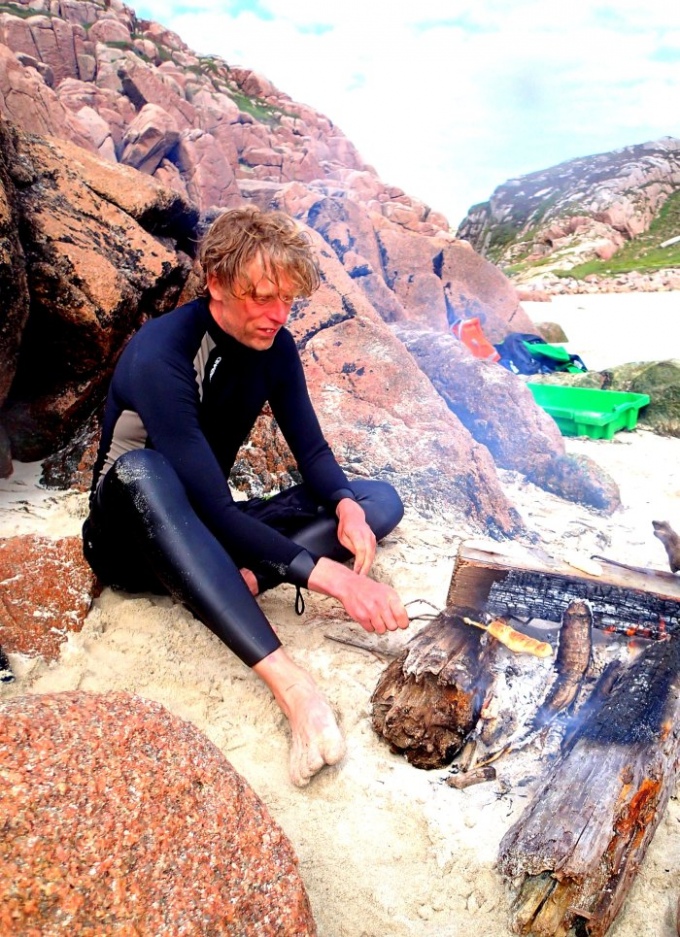 Perfectly warm all day in and out of the water / sea kayak in the Challanger with just a pair of board shorts and a rash vest for protection.
Technical Bits
The main material of the suit is called Yamamoto 39, SCS Coated. It is indeed very stretchy, it has a shiny surface to shed moisture and has without doubt improved my swim time. The cuffs - all important to triathletes who want to get the thing off in a hurry) - and collar have a seal to keep out the water. Whilst this works pretty well there's no stopping a trickle of coldness slipping in at the neck unfortunately. The ankles have an extra stretchy panel to ease removal - this it the biggest change from the suit I had borrowed from a friend which has no such stretch-panels and could take a full minute of wrestling to remove! The forearms have a textured surface which apparently helps get a little extra traction through the water durint eh pull-phase of the stroke - cant really argue with science!
Pros
Light
Warm
Mobile
Easy to get on and off
Dries very quickly
Cons
It's so good that I have been wearing it for non-swimming, but water-based activities and am worried that it will wear out too soon!
The baffle got caught in the zip on one occasion, but this could simply have been down to the person who zipped it up not lining things up properly. I've since made sure that I make this point when asking somebody to help.
Conclusion
Rarely am I so bowled over by a piece of kit. Sure I've managed in a shorty for years, but I had also swum in a friend's triathlon swim-wetsuit, and this one trums them both convincingly. It almost feels like cheating! So it costs ten times as much as a cheap shorty, but I've already been in the water for ten times as long, and I've only had it a month! If you like swimming in cold water, then it's well worth investing in a decent wetsuit. End of discussion.
Manufacturers Blurb
Retails at £260
Material: Super stretch Yamamoto 39, SCS Coated
Aqua-Grip™ cuffs and Aqua-Flex™ collar seal to keep water out
Quick release ankle transition panels
Thermo-Guard™ 4ml core body panel to retain body heat
Power-Zone™ forearm panels increase traction during the pull phase of your stroke
Quick-drying
100% UV protection
Easy-pull deep back zipper
About the Aqua Sphere brand
In our never-ending effort to offer products that enhance the swimming experience, Aqua Sphere has developed a line of accessories that feature exceptional design and functionality. From Anti-Fog solution for eyewear to swim caps and wet/dry bags, Aqua Sphere has tried to put the swimmers needs first. Each item is constructed of the highest quality materials and has been thoroughly tested to provide the greatest value. Whether you're a daily or an occasional swimmer, a lively toddler or an active senior citizen and whether your focus is on fitness or fun, Aqua Sphere offer an innovative and comprehensive range of swimming goggles, masks, fins, plugs, paddles, pullbuoys, floats, kick boards and wetsuits designed to assist at all levels while maintaining your safety. Aqua Sphere may be a relatively new name to the British marketplace, but it boasts a tremendous pedigree.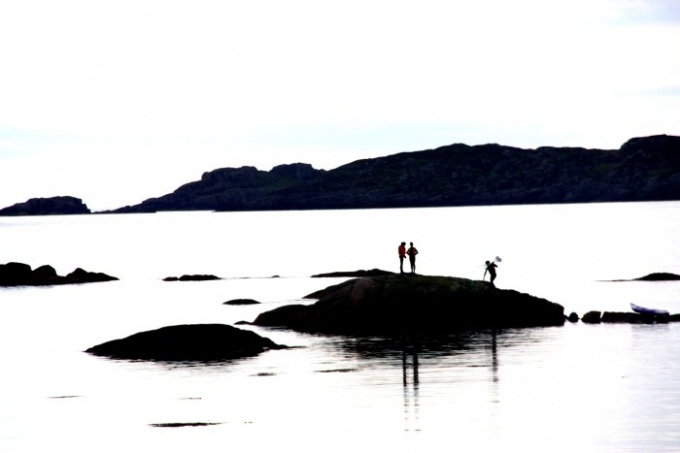 Get a suit like the Aqua Sphere Challenger and you can enjoy places like this (Isle Of Mull, Scotland).