A lovely little compact, lightweight stove for screw-in gas canisters. I have a cheaper stove of a similar weight that screws to the same style canisters, but this beats it hands down for performance. I used to only use petrol stoves on the basis that they were the hottest, but no longer. I still take a petrol stove to remote places as it's a lot easier to get hold of some sort of liquid fuel (mine works on petrol, diesel or paraffin), but if I can get gas cylinders I tend to opt for these for ease. That said a friend did recently point out the blindingly obvious, that non-reusable cylinders were not exactly environmentally friendly.
Aside from its compactness I love the built in lighter. That said, I think that virtually every time I have gone to light it I have reached for an actual lighter first! Handy when you forget the lighter though!
Retails at £74.99. A little expensive for such a small bit of kit, but if you are looking for a lightweight, well built stove then it's well worth it. Virtually no moving parts to go wrong and performs brilliantly and quietly.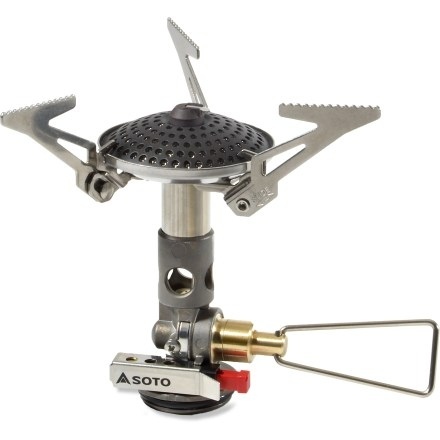 Here's the official blurb:
The Soto OD-1R Micro Regulator stove was a staff favorite when it was introduced in the spring of 2010. Its boasts a flame regulator and an auto igniter, all for under 3 oz. The micro regulator not only extends the life of your fuel canister, but it ensures that the stove will start at high altitudes and freezing temperatures. The integrated auto igniter reduces weight and bulk, but is easy to replace.
Weight: 74g / 2.6 oz (not including fuel)
Average boil time for a litre of water: 3 minutes 52 seconds
Burn time on high: 29 minutes (100g fuel canister)
Dimensions: 3.9" x 3.4"
Fold away pot supports
Integrated piezo auto igniter
Micro regulated flame
Fits on all Isobutane canisters (sold separately)