MSR Flex 3 System - Cookware
MSR have a certain genius for designing clever kit. The Flex Systems are essentially nesting sets of cooking pans, plates / bowls, and cups. I'd intended to get the Flex 4 System as we are a family of 4, but in retrospect the 3 is actually more suitable for lightweight backpacking. The Flex 3 consists of a 3.3l pot and a 2.3l pot, 2 X 1l and 1 X 0.75l deep sided plates which double as bowls, and 3 X 400ml insulated cups. Everything nests together exactly as it does in the image, with the handle on the clipping to the larger pan, and then folding over the lid and clipping to the lid handle to keep the whole lot secure. It weights 1.09kg which is pretty light given what's included (the Flex 4 system, which obviously includes an additional bowl, lid and cup, as well as a 5.3l pot to replace the 2.3l pot, weighs significantly more at 1.67kg).


The set is packed full of little features which impress. The lid fits both pans, as well as having two different strainers built on for fast and slow draining. It is crimped at one point to allow a small metal hook on the outside of the larger pot to hold it in place for storage and transport. Each of the items has its capacity printed on it saving you having to estimate. The handle detaches from the larger pot and can be attached to the equivalent bracket on the smaller one. It's also insulated and plenty long enough meaning you don' t have to risk burning yourself when removing or holding the pot. And last, but not least, it has a small locking mechanism which means you can't accidentally let it fold whilst draining your pasta! The insulated cups are a quirky design to enable them to fit into the circular pans. My one suggestion to MSR would be a small handle on the inner edge, but it's a small issue. The mugs have a plastic lid with a drinking hole and a vent, though these lids are only press-fit.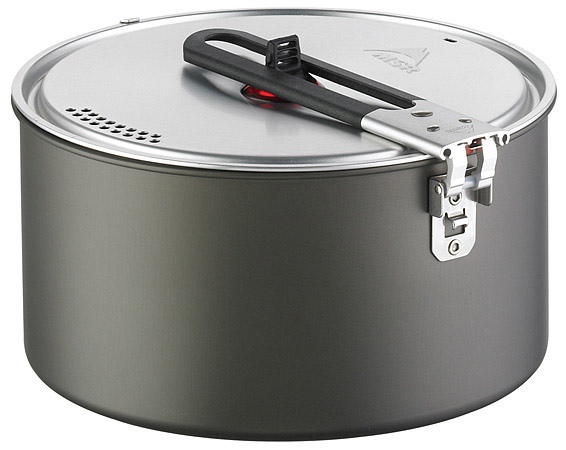 As a family of 4 we are clearly somewhat disadvantaged having to manage with just 3 cups and plates / bowls, but we manage. One of us eats from one of the cooking pans, and the kids chare a cup. That's not much of a compromise to make for a saving of nearly 700g. The two pots are ample for cooking a pasta or rice based meal for four of us. It'd have been nice if one of the deep dishes doubled as a frying pan, but it's possible to fry in the base of either of the pots (and MSR have designed the system so that it nests inside a Flex Skillet.

The set retails t around £100. If you were to go to a decent kitchen shop and buy yourself 3 insulated cups, 3 bowls, 2 pans and a lid, you'd be hard pressed to get them at a better price, at this sort of quality.

More information available on the MSR website.