Boreal Diabolo Rock Shoes
It's been some time since I have climbed in Boreal shoes. I think I still have one of the iconic pairs of Ninja slippers somewhere in a cupboard. The Diabolo is a far cry from it's aged cousin. It is a Velcro shoe, with two generous straps running in the same direction (tabs facing out). They are angled differently allowing a small degree of manoeuvre when tightening. There are a pair of equally generous finger-pull loops on each heel which makes getting them on a doddle, and attaching them to your harness with a krab doesn't result in frustration as you try to thread it through too-small a loop.

Although described in other reviews as a narrow shoe, I found them to fit my feet very well and have never considered my feet narrow. Probably best to try them on before you buy in that case. Either way, what I did like was the stretch tongue. It's made of a neoprene-like material which fits really snugly against the top side of your foot. The snug fit gives a little warmth, and also the feeling of real security in the fit, especially when combined with the two wide Velcro closures.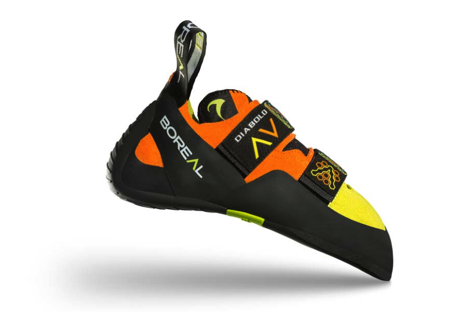 Gone are the days when I wear climbing shoes 3 sizes smaller than my usual shoes. I prefer the extra comfort and am willing to put up with the loss of sensitivity. To be honest, modern shoes are so well constructed that it doesn't really feel like that much sensitivity is actually sacrificed, yet I am able to wear the shoes for half an hour at the climbing wall between breathers. I'm pleased to say that there has been very little stretch in the shoes since I've had them, meaning it feels like less of a gamble when choosing your size. I am actually in a UK 11 when my shoe size is more like a 10 / 10.5. Definitely try them on yourself, but don't worry too much about post-purchase stretch.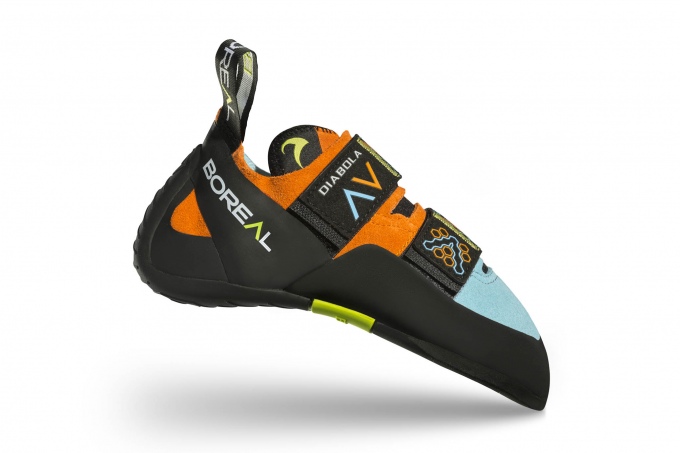 The women's model

Performance wise I am happy. The rubber is excellent. Initially it was noticeably good on small positive holds, but as the toes have worn they are proving equally adept at smearing. The all-important heel box is well structured, with some additional ribs in the rubber. If you tighten up the Velcro straps well then the heels feel solid when hooking. They fall in between a flat-soled beginner shoe, and an aggressive banana shaped toe-down performance beast. There's a definite curve to them, with a pointed toe obviously designed for precision, but it feels like they have struck the right happy medium.

The shoes are predominantly black thanks to the rubber and Velcro, but the leather uppers are a pleasing two-tone orange and yellow

They retail at £100 which feels bang on between the upper and lower ends of the market for a very good all-rounder.

More info http://www.borealoutdoor.com/en/products/details/11260-diabolo